Capturing the milestones of your baby's first year is priceless. Creative and cute first birthday pictures are timeless, special, and memorable, but hiring a professional photographer can be quite expensive. Plus, you might only get a handful of photos to choose from. So why not create a personalized, fun, and easy DIY photoshoot at home? After all, nobody knows your baby better than you do, and you can capture their personality throughout the day instead of during a one-hour session, creating a beautiful baby book from a plethora of pictures.
In this blog post, we'll share tips on how to make your baby's first birthday photoshoot a success, from picking a theme and location to adding props to your photos and taking the perfect pictures.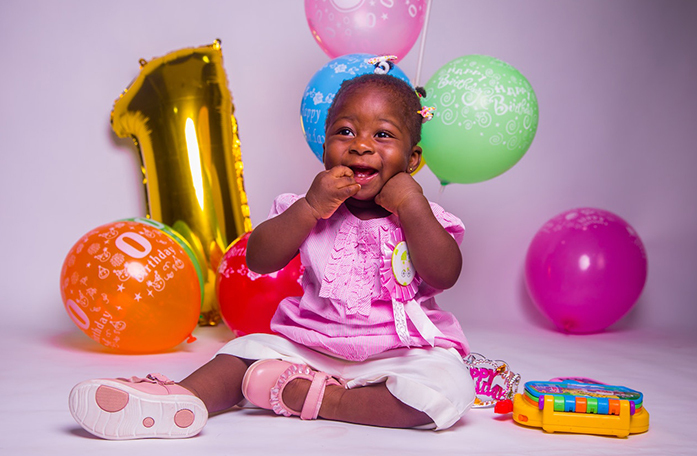 Remember Who You're Photographing
Your baby is, just that, a baby. At this age, they're curious, unpredictable, and full of unique expressions. Things may not always go according to plan during your photoshoot, but that's perfectly okay! Embrace the unexpected and find beauty in the imperfect moments. Grumpy pictures, photos in mom's lap, or candid shots of your little one playing or exploring their surroundings are all precious memories that will warm your heart for years to come. If your baby doesn't seem interested in a particular prop or background, try switching things up or simply capturing them in their natural state. Remember, the goal is to document your baby's authentic personality, not to force them into a rigid, picture-perfect mold. Be patient, stay flexible, and have fun – your baby will likely pick up on your relaxed attitude and enjoy the experience more, too.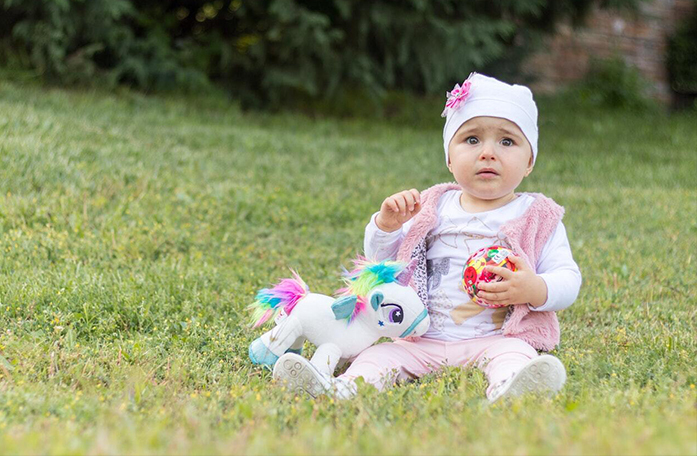 Pick a Theme
A cohesive theme is key to making your photos look professional and well-planned. By selecting a theme, you create a visual story that brings harmony to your baby's first birthday photoshoot. To achieve this, choose an outfit, color palette, and props that complement your chosen theme, creating a consistent and eye-catching look throughout the entire photoshoot.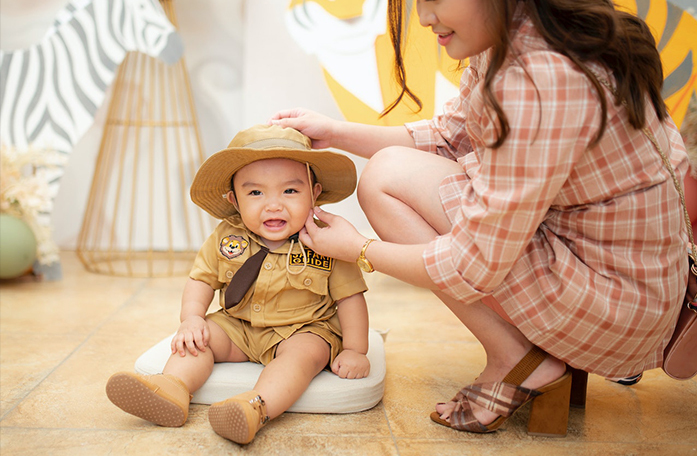 Some popular and creative ideas to consider for your baby's first birthday photoshoot include:
Nautical: Set sail with a maritime-inspired photoshoot featuring anchors, sailor outfits, and shades of blue and white.

Forest: Capture the enchanting beauty of nature with woodland creatures, earthy tones, and whimsical fairy lights.

Favorite color: Celebrate your baby's first year with a vibrant color-themed photoshoot, showcasing their favorite hue in clothing, props, and backdrops.

Cake smash: A fun and messy tradition, a first birthday cake smash photoshoot incorporates a delicious cake for your little one to dig into, along with matching decorations and outfits.

Nursery rhyme: Bring your baby's favorite bedtime stories to life by incorporating classic nursery rhyme characters, props, and dress-up into your photoshoot.

Seasonal: Highlight the time of year your baby was born with a seasonal theme, whether it's a winter wonderland, a spring garden, a summer beach party, or a cozy autumn celebration.

Superhero: Unleash your baby's inner hero with a superhero-themed photoshoot, featuring capes, masks, and comic book-inspired props.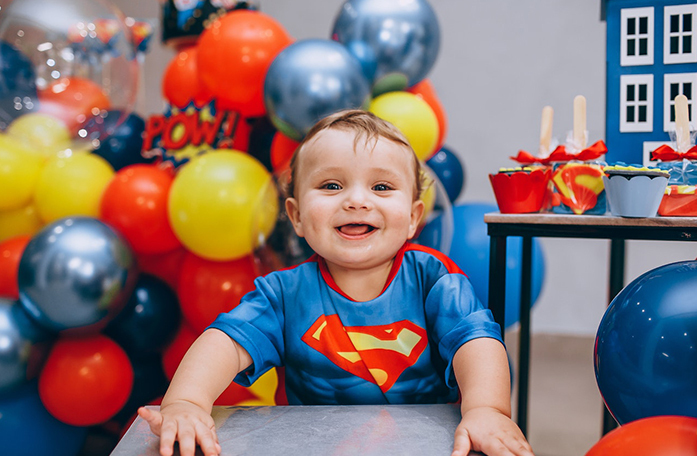 When planning your theme, consider your baby's personality, interests, and the overall aesthetic you want to achieve. The key is to strike a balance between creativity and simplicity, ensuring that the theme enhances the photos without overshadowing your little one. Pick an outfit that will showcase your theme and keep your baby comfortable. A comfy baby is a happy baby, and happy babies make for cute pictures. By thoughtfully selecting a theme you'll create a memorable and visually stunning collection of images to treasure for years to come.
Pick a Location
When choosing between an outdoor and indoor photoshoot, consider your baby's birth month and the weather conditions in your area. If your baby was born during a season with pleasant weather, an outdoor photoshoot might be the perfect way to showcase the beauty of the season while capturing stunning images of your little one. On the other hand, if your baby's birth month is during a season with extreme temperatures or unpredictable weather, an indoor photoshoot might be a safer and more comfortable choice. Indoor shoots give you the opportunity to control the environment, ensuring that your baby is comfortable and happy throughout the entire session. You can create a cozy and personalized home studio setup using props, backdrops, and decorations that match your chosen theme, transforming any room in your home into the ideal photoshoot location.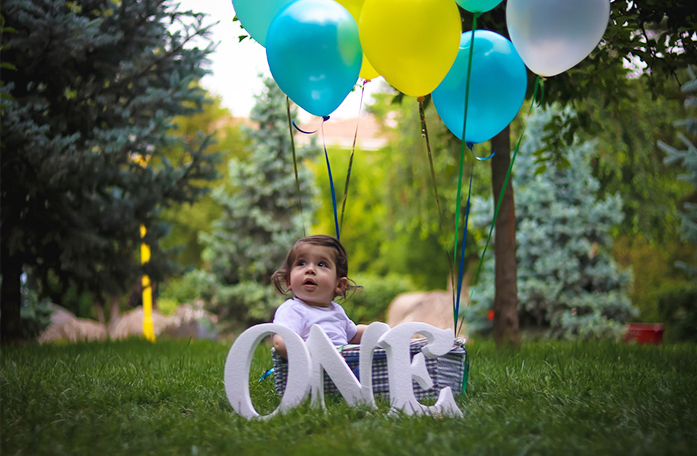 Pick a Backdrop
Choosing a backdrop that complements your theme and location is essential for creating a visually stunning and harmonious first birthday photoshoot. For outdoor shoots, select a location with a clear, non-distracting background to make your baby the focal point of the photos. Woods, parks, grassy fields, and beaches are all excellent choices, as they provide a natural and picturesque setting for your photoshoot. Consider the time of day and the position of the sun when selecting your outdoor location, as this will impact the overall lighting and ambiance of your photos.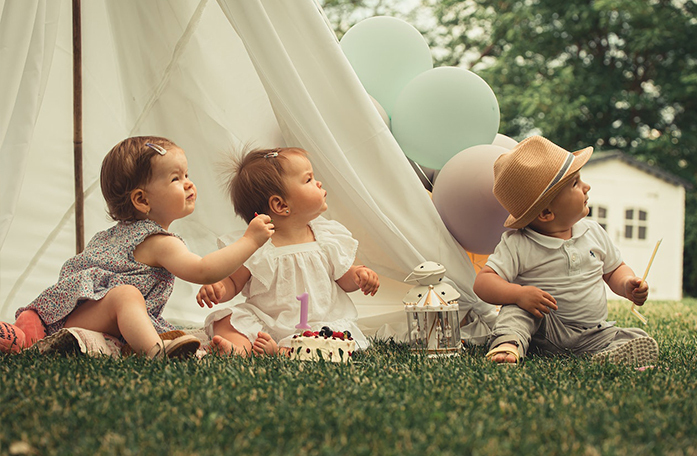 For indoor shoots, there are several creative and affordable options for creating a backdrop that adds charm and character to your photos. Curtains in a solid color or a pattern that matches your theme can be used to create a simple yet elegant background. Vinyl flooring or large fabric pieces can be utilized to create a faux wall or floor that complements your chosen theme, and they're easy to clean and store for future use. Carpets or rugs can also be used to introduce texture and warmth to your backdrop, creating a cozy and inviting atmosphere for your baby's photoshoot. When setting up your indoor backdrop, ensure there is ample natural light or use additional lighting sources to create a well-lit environment.
Pick Your Props
Selecting props that fit your theme and allow your baby to be the center of attention is crucial for a successful first birthday photoshoot. Props can add depth and interest to your photos, while also reinforcing the theme you've chosen. Consider incorporating items like balloons, toys, stuffed animals, streamers, tents, cakes, party hats, chairs, bathtubs, or blankets/pillows into your photoshoot.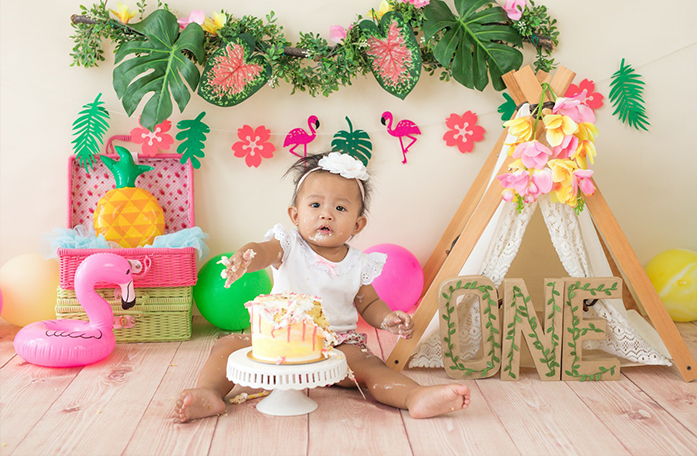 When arranging your props, place them in a visually appealing manner, ensuring they don't overpower or distract from your baby. Be mindful of the size, color, and placement of the props so they complement rather than compete with your baby. Don't worry if your baby doesn't interact with the props as you might have envisioned. Their natural curiosity and playfulness will often lead to adorable, candid moments that perfectly capture their personality. Whether your baby engages with the props or not, the key is to create an environment where they feel comfortable and can be themselves, resulting in a memorable and authentic first birthday photoshoot.
Decide How to Take Your Pictures
An iPhone is a powerful tool that can produce great photos, especially when equipped with the right tips, resources, and editing apps. With advances in smartphone camera technology, it's easier than ever to capture high-quality images of your baby's first birthday photoshoot using just your iPhone. By learning some photography techniques and making use of available editing apps, you can create beautiful and memorable images that rival those taken with professional equipment.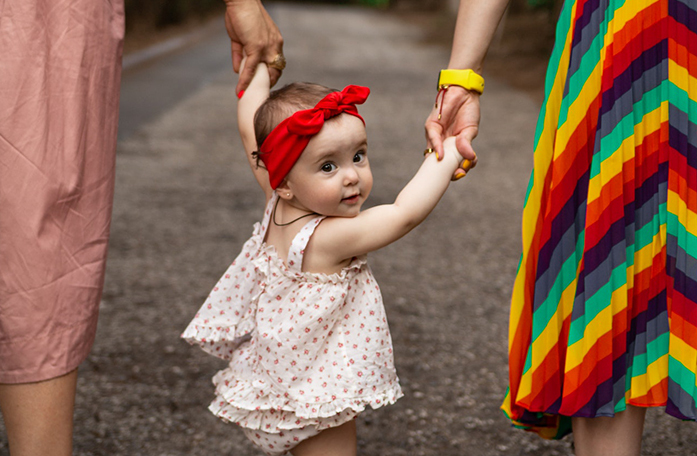 However, if you plan to capture numerous timeless memories throughout your child's life, investing in a camera can be a worthwhile long-term investment. Cameras offer more control over settings like aperture, shutter speed, and ISO, allowing you to fine-tune your images and achieve stunning results in various lighting conditions. Additionally, cameras typically have larger sensors and better lenses, which can result in higher image quality and greater detail. Ultimately, the choice between using an iPhone or investing in a camera will depend on your personal preferences, budget, and long-term photography goals.
Take Your Time and Take Lots of Pictures
Candid shots often capture the most genuine and heartwarming moments, so it's essential to be patient and take lots of pictures during your baby's first birthday photoshoot. These unposed, spontaneous images often reveal your baby's true personality, expressions, and emotions, making them a cherished addition to your collection of memories. However, there's also nothing wrong with having a 'must take' list of pictures that you really strive to capture during the shoot. Goals are always good, just don't push them too hard if your baby isn't in the modeling spirit. As you document your little one's special day, remember that it's easier to delete excess photos than to go back in time and take more. Don't be afraid to snap away, capturing a wide variety of images and angles. This approach will give you more options to choose from when selecting the perfect shots to keep, share, and display.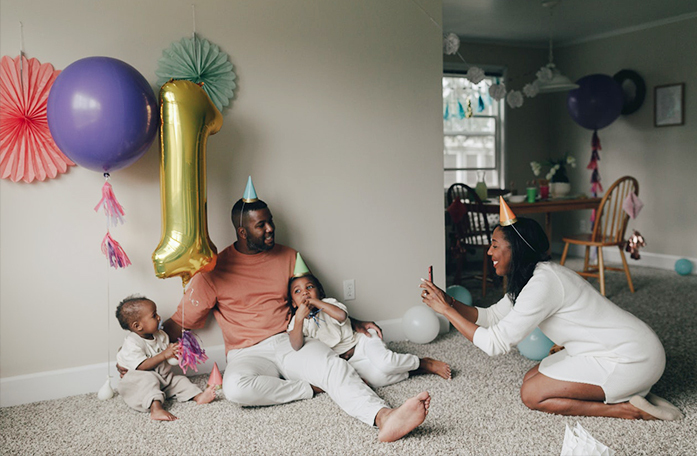 With these tips in hand, you can create a fun, personalized, and memorable DIY first birthday photoshoot for your baby, capturing the essence of this special milestone. Not to mention, you'll save money by not hiring a photographer to come out. Embrace the imperfections, knowing that they often make the most endearing memories. Delight in capturing candid moments that showcase your baby's unique personality and the joy of their first birthday celebration. Remember to be patient, take lots of photos, and enjoy the creative process of designing a photoshoot that reflects your baby's individuality.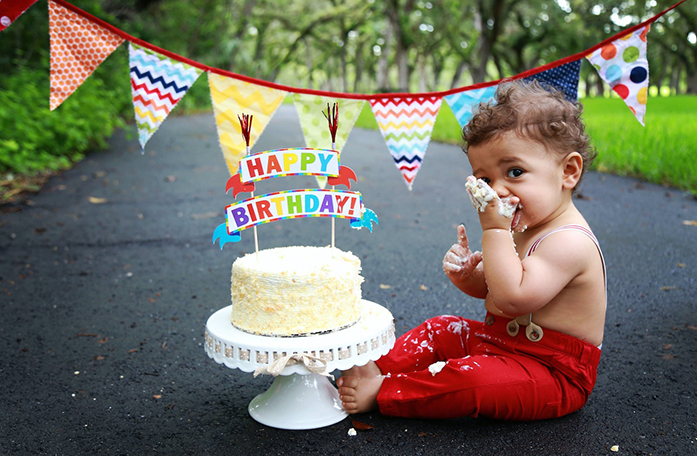 As you treasure the memories from your baby's first birthday photoshoot, consider transforming those priceless moments into enduring pieces of art with Simple Canvas Prints. Simple Canvas Prints provides a convenient and cost-effective solution to convert your cherished baby photos into bespoke canvases or glossy tiles, perfect for displaying in your home or gifting to special family members. So, whether you're looking for a unique way to decorate your home or searching for a heartfelt gift to share with family and friends, consider a custom canvas or glossy tile to bring your baby's first birthday photoshoot to life. Your loved ones will surely appreciate the thoughtful, personalized gift that celebrates this important milestone and adds a touch of beauty to their homes.