There are many reasons that you might be searching for the perfect gift for Mom! And we want to provide you with a friendly reminder that these are some of the popular gift-giving days for the mom in your life, and some might be approaching sooner than you think: Mother's Day, Valentine's Day, Christmas, her birthday. And for the non-annual gift-giving days: her baby shower, a recent milestone in her life, and just-because. You might be stumped on what to give her this year, trying to steer away from giving her any more candles, coffee mugs, tumblers, or wine glasses (though they are appreciated!). So if you're looking for a unique gift, then you have come to the right place because we've got a whole list of personalized gift ideas for you!
The Gift Guide:
1. MOM or GRANDMA photo canvas
Spell out her name with some of her favorite photos! Choose from dark gray, light gray, or beige as the background color. And choose from 8"x10", 11"x14", 16"x20", or 24"x36" as the canvas size. You can customize it even more by adding your own special message and signature. This one makes for a perfect Mother's Day gift for moms and grandmas, but of course, they'll love it any time of the year! (Exciting thing to note: You can also make one for Dad or Grandpa for Father's Day!)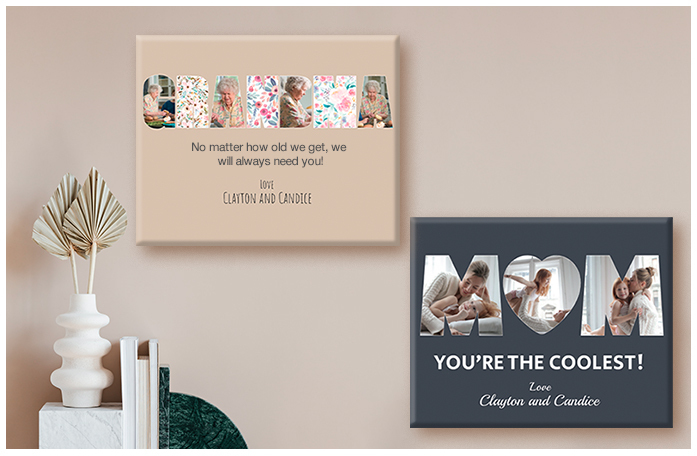 Shop MOM and GRANDMA Canvases.
2. Star Map canvas to cherish the day she became "Mom"
Celebrate the new mom or the seasoned mom in your life with a meaningful star map, showing just how the stars were aligned in the sky-above when she became a mom. Customize it by entering the special city and date, and choose the layout that you think Mom would like best!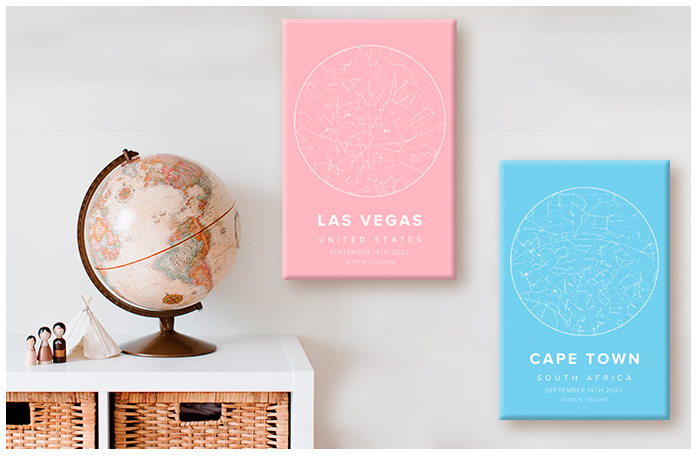 Shop Star Map Canvases.
3. City Map canvas to cherish a special place to Mom
Think of a special place that Mom holds near and dear in her heart. Is it the home where she raised her family? The place she got married? Her hometown? If you know what that special place is, it deserves a spot on a city map canvas! Enter any city (or small town) in the world, and choose the layout that Mom would love.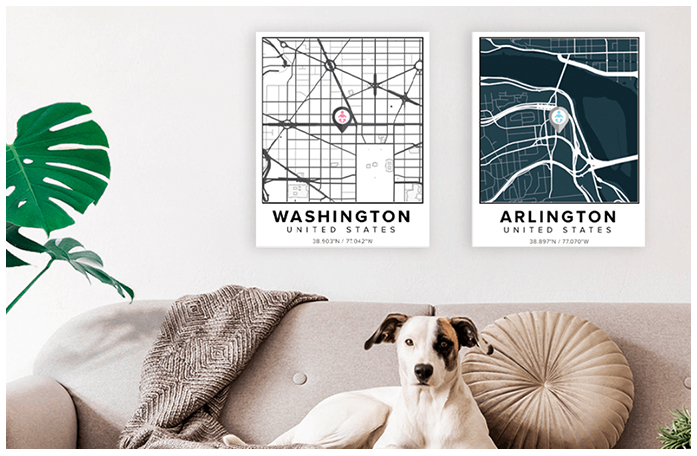 Shop City Map Canvases.
4. Photo collage canvas with all of her kiddos
This one is great for 2 to 4 special photos. Use photos of Mom with her kids, or use individual images of each of her children (or anything else Mom might like!) This collage canvas can be made as small as an 8"x8" or as large as a 30" x36". (Hint: This is a popular gift for grandmas, using photos of their grandchildren!)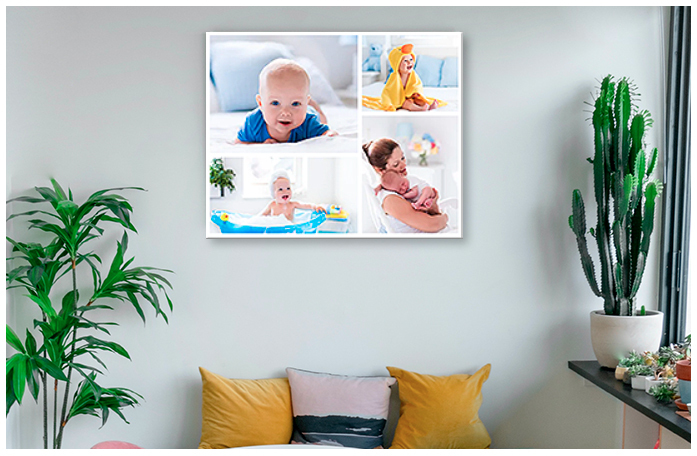 Shop Collage Canvases.
5. Wall Display canvases to showcase photos of all of the people Mom loves most
Do you know a mom who has been itching for a major decor change or to fill blank wall space with a variety of custom canvas home decor? If so, a wall display is the way to go! Find some of her favorite photos of her with her loved ones, and get them printed on a mix of canvas sizes, large and small. We have some of the most popular wall display options to choose from here, but if you're not seeing the exact variety of sizes that you had in mind, you can always order the sizes you want individually as custom canvas prints here.

Shop Wall Display Canvases.
6. Custom canvas print
If you have one really special photo that the mom in your life would love to have as a print, then a custom canvas print makes for a simple and incredibly thoughtful gift for her. (This is one of our best sellers.) She can either display it on her wall or prop it up on a tabletop, always having this special keepsake near.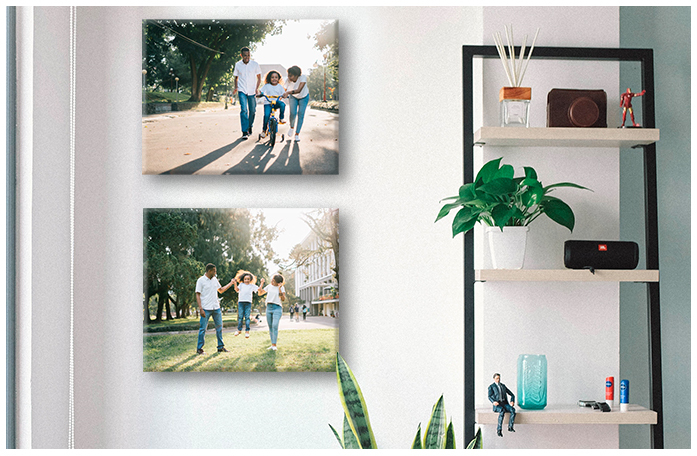 Shop Custom Canvas Prints.
7. Coloring canvas for the DIY mom
Some moms just have a knack for all things DIY! If you know a mom like this, she might love the gift of a coloring canvas. Choose from 10 different designs; we'll print the design, and Mom can make it her own! (We recommend using acrylic paint or markers to color it in.) But this doesn't just have to be a gift you give; it can also be a gift you experience! Use this gift as a way to spend quality time with her: print a design for you, Mom, and everyone else who will be spending this day together and have a painting party!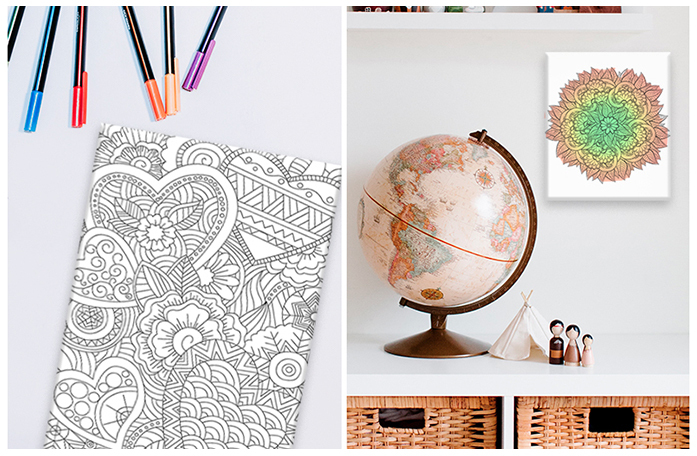 Shop Coloring Canvases.
8. Family triptych canvases
Take one photo and get it printed across three small or large canvases! Triptychs are an exciting, unique way to showcase a special image, turning any image into a piece of wall art. For the mom who likes nature and landscapes, get a nature scene printed across multiple canvases. Or for the mom who enjoys the city life, she'll love a triptych of a city skyline. And if you really want to melt Mom's heart, give her the gift of a family photo printed as a triptych!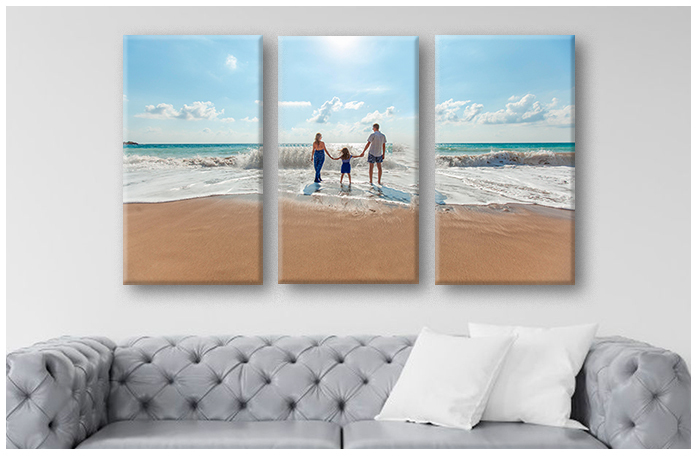 Shop Multi-Canvas Prints.
9. Glossy wall tiles
Tiles are a great gift for the mom who has many special photos to add to the wall! These are glossy, slim tile prints that can easily stick to Mom's wall, leaving the wall damage-free. (See how it works at the bottom of this page.) All glossy tiles are 8"x8" in size. And there are many ways to go about choosing the perfect images for these photo prints. You can print individual portraits of every member of the family (including Mom, of course). If she's into photography, have some of her photos printed on each tile. Or is there a particular vacation she took that she can't stop reminiscing about? Get those vacay photos printed on tiles for her to always have on display!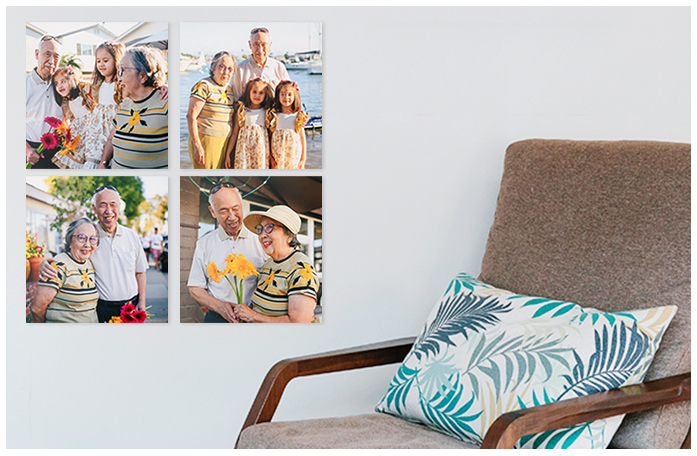 Shop Glossy Wall Tiles.
10. Gift card
Do you want to take a family photo on her special day and get it printed later? (A nice Mother's Day photo, perhaps?) Give her the gift of a Simple Canvas Prints gift card so that you can take the time to take that perfect photo that mom will love, and she can get it printed on the size she wants. A gift card is also a great option for the hard-to-buy-for mom. With a gift card, she can pick the photos, sizes, and products that she prefers and knows she'll love! (Makes for a great last-minute gift, too!)
The best mom deserves the best gifts! And no gift can be better than one customized just for her. Personalized photo gifts, DIY gifts, and custom maps are great for any of the gift-giving days for Mom.