The United States is a big place with many different road trip routes to take. And if you have ever taken a road trip, there is a high chance that you found yourself somewhere in the Midwest at some point in time. Whether you're planning a getaway to the Midwest or a road trip through the Midwest or you just plain live in the Midwest, we've got 20 of the most Instagrammable places that we think you should check out!
1. Graffiti Wall - St. Louis, MO
To kick off this list, we've got a mile-long graffiti wall for you! The Graffiti Wall can be found in St. Louis, Missouri, hugging the Mississippi River (just down the road from the St. Louis Arch). This wall is repainted annually by many local graffiti artists during a special event called "Paint Louis." That said, this wall looks different every year, which is what makes it so unique. Photo opportunities are a mile-long and change from year-to-year. If you're in the St. Louis area, typing "Graffiti Wall" into your GPS will take you right where you need to be to see this magnificent street art.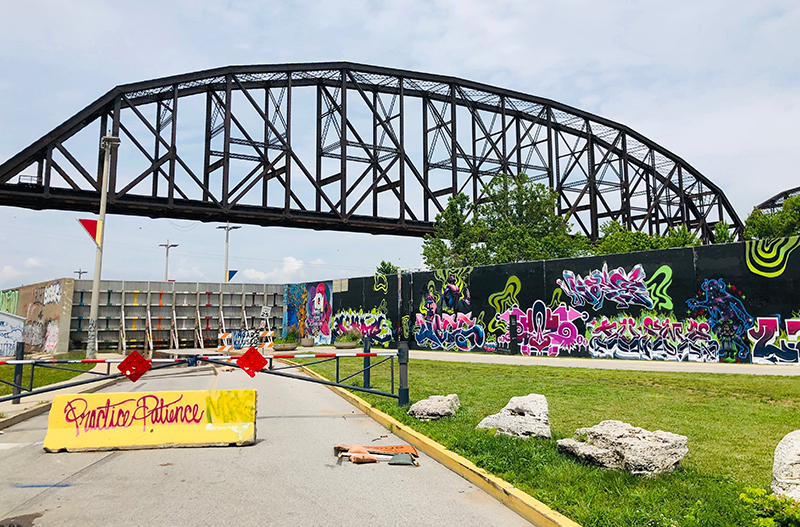 Graffiti Wall, St. Louis, MO
2. Polk-A-Dot Drive In - Braidwood, IL
This lovely 50's diner can be found along Historic Route 66, about 60 miles southwest of Chicago, in Braidwood, Illinois. Once you see the building, you'll know why we added this to the list. Polk-A-Dot Drive In will greet you with a tall Route 66 logo and a larger-than-life size Elvis statue. Once you're inside, grab a bite to eat and immerse yourself in a classic 50's diner atmosphere. Take a photo in a booth with a working tabletop jukebox (that's right: pop in some quarters and play some of your favorite 50's songs right from your table) and take a photo in front of the classic jukebox near the entrance. We guarantee you will leave here with more photos than you know what to do with!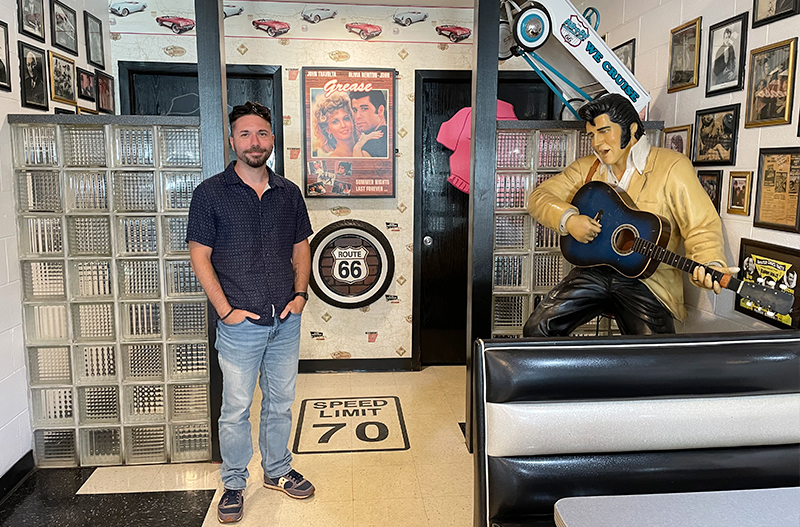 Polk-A-Dot Drive In, Braidwood, IL
3. Camp Wandawega - Elkhorn, WI
Established in 1925, this camp in Elkhorn, Wisconsin has gone through being a speakeasy and a church camp, and is now a hotspot for photographers and campers, alike. Book your stay in one of their cabins, tents, or treehouses, and take a step back into, as they state on their website, "simpler times." Camp Wandawega is nestled next to a lake, where guests can go swimming, fishing, and canoeing. And for the photographers and the Instagrammers, this place is filled with opportunities. Surrounded by nature and vintage cabins, this truly feels like a step back in time.
4. Twisted House - Indianapolis, IN
Built by sculpture artist John McNaughton, Twisted House is a sculpture created out of wood, which can be found outside of the Indianapolis Art Center in Indianapolis, Indiana. The bottom and the top of the house both touch the ground, hence the name. We think it has an Alice in Wonderland and Dr. Suess kind of vibe, and it makes for a great quirky spot for a pic!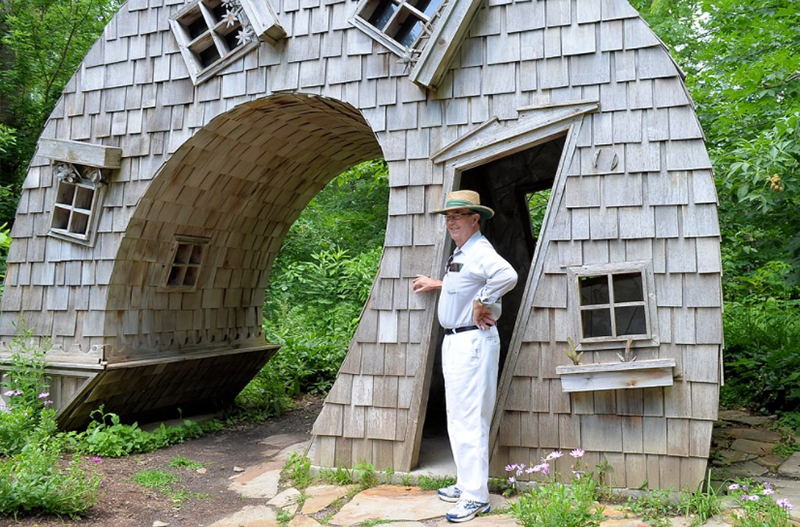 "B13C John McNaughton's Twisted House" by Bill Stanley is licensed under CC BY-ND 2.0
5. The Wilds - Cumberland, OH
Right in America's heartland, you can find a wildlife safari! The Wilds is located in Cumberland, Ohio and has been offering tours since 1994. At-risk wildlife from around the world roam throughout this 10,000-acre piece of land. Schedule a tour and hop on board the open-air safari vehicle, and you'll come across zebras, giraffes, and rhinos.. just to name a few. Make sure you have your camera ready to snap some incredible up-close photos with these wild animals!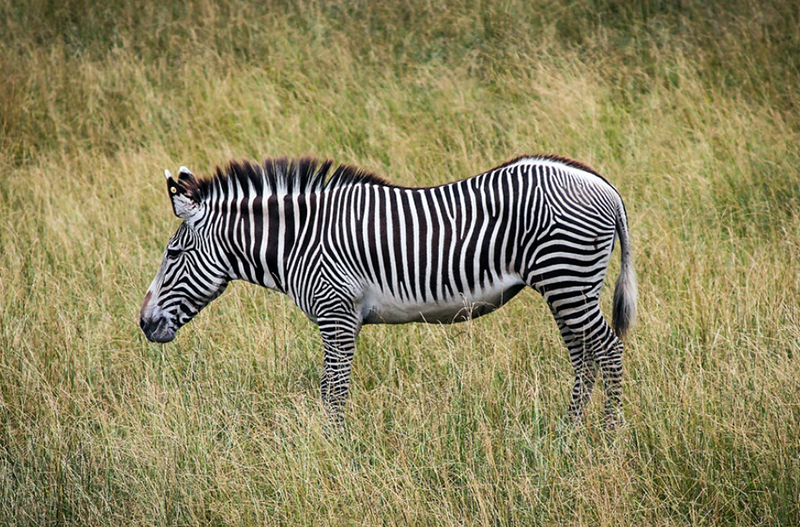 "WildsZebra2" by toddwendy is licensed under CC BY 2.0
6. The Enchanted Highway - Regent, ND
"The Enchanted Highway" isn't just a fun name for a sculpture park; it really is along a highway... 32 miles long that ends in Regent, North Dakota. Gary Greff's dream became a reality when he began building these giant sculptures in 1989. As of today, there are currently 7 giant sculptures that can be viewed along this highway, and it is still growing. And don't worry, we didn't add this to a list for Instagram-worthy photos just so you can drive slowly by in your car: there are multiple parking stops along the highway that allow for you to get our of your car and take those Instagram-worthy photos!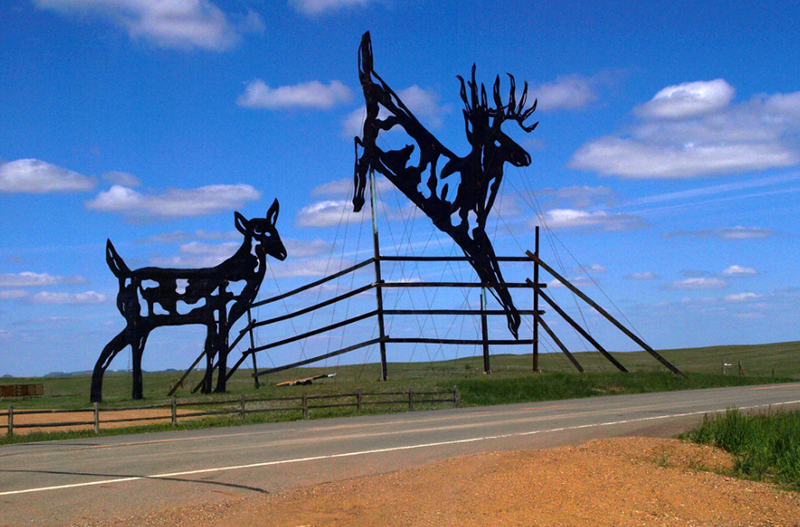 "Enchanted Highway Deer Crossing" by minnemom is licensed under CC BY-ND 2.0
7. "You Betcha" Mural - Brainerd, MN
"You Betcha!" has become an iconic phrase for the northern midwestern culture, especially for Minnesota. And Brainerd has embraced it! The "You Betcha" mural was commissioned by Crossing Arts Alliance and created by artist Tony Powers with the help of the Brainerd community! Many people from the community of Brainerd took part in putting a paint brush to this mural, and it's definitely worth checking out. You can find this colorful wall on the side of the Crossing Arts Alliance building in downtown Brainerd, Minnesota.
8. Henry A. Wallace Country Life Center - Orient, IA
We have to include some farmland on this list since we're representing the Midwest! This rural 40 acres of land may not be a present-day functioning farm, but it was once a part of a 160-acre farm back at the turn of the 20th century. It was also the birthplace to Henry A. Wallace who, in the 1930s, was the U.S. Secretary of Agriculture. Henry A. Wallace Country Life Center in Orient, Iowa contains a farmhouse that has been repaired and a barn that has been rebuilt (available for private events). It also houses a walking path and gardens that will take you through a beautiful grassy prairie with wonderfully rural photo opportunities.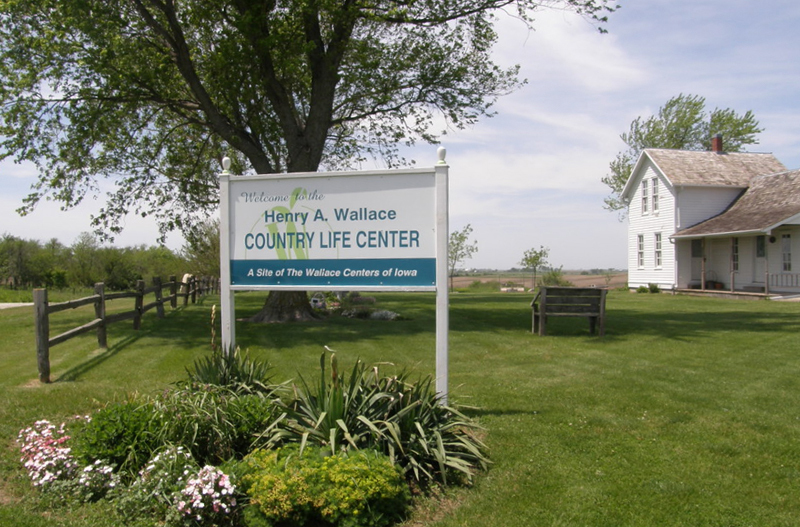 "20120515-RD-DL-0005" by USDAgov is licensed under CC BY 2.0
9. Turnip Rock - Port Austin, MI
Located in Port Austin, Michigan, Turnip Rock is a unique rock formation just off of the lakefront on Lake Huron. Strangely, the widest portion of this rock is on top, and the slimmest portion is the bottom, hence the attraction to it! This may be the trickiest location to get to on our list because, well... it's not accessible from public land. That's right, to see this unique rock, you can only get there via water on a 7-mile roundtrip kayaking journey! This one is for the Instagram adventurers, and it is definitely worth the view.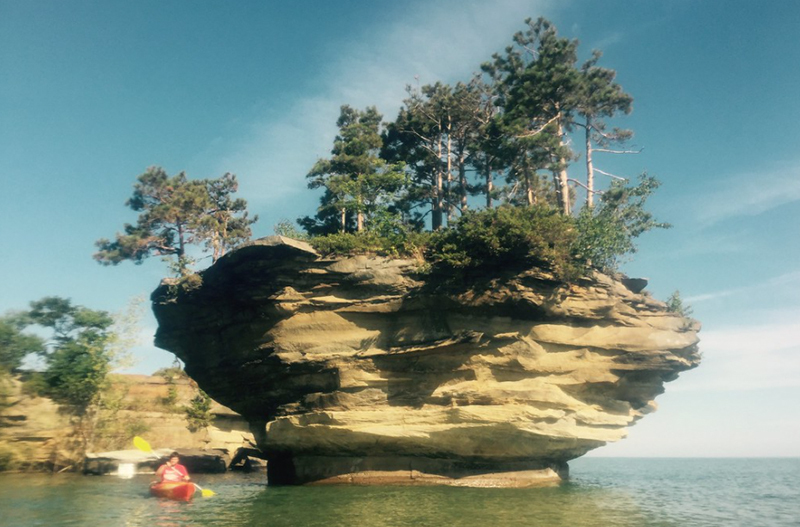 "Turnip Rock - Pointe Aux Barques, Michigan" by thumbwind is licensed under CC BY 2.0
10. Old Cowtown Museum - Wichita, KS
This museum is unlike most! Old Cowtown Museum in Wichita, Kansas is a recreated frontier town based in the mid to late 1800s, open for tours. It consists of dirt roads and (currently) 54 buildings based in the era. Half of the buildings on this plot of land were recreated, and the other half are truly historic: built in the 1800s and relocated to Cowtown from other nearby towns. Rooted in history, the layout of Cowtown resembles a scene from an old western movie, and it makes for such a great old-timey photo op!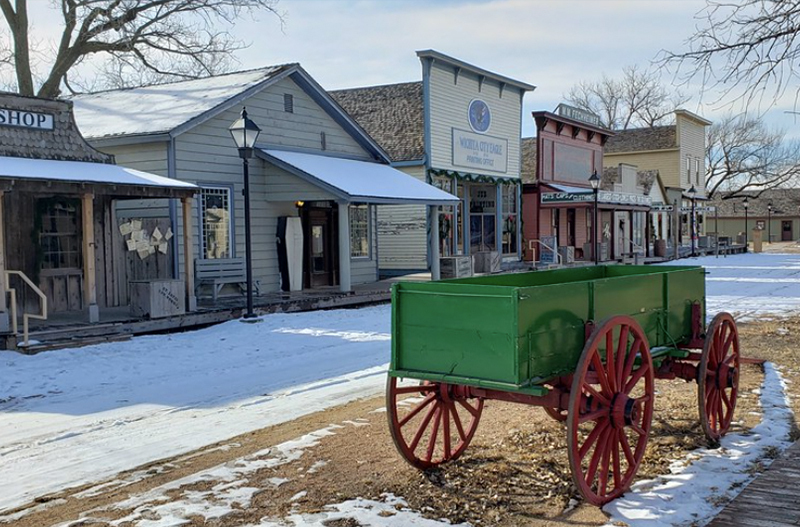 "Keeper of the Plains, Cowtown Museum and Art Museum. Wichita, Kansas. December 19, 2019" by jhillen69 is licensed under CC BY-ND 2.0
11. Monowi - Monowi, NE
Do you claim to live in a small town? If so, you may need to reconsider your definition of "small." The small town of Monowi in Nebraska has a population of, well.... one. (Your town of 2,000 may seem kind of big now.) Elsie Eiler is the sole resident of Monowi. She is also the mayor, the librarian, and the owner of the only business in town: Monowi Tavern. Monowi is situated just a few miles south of the Missouri River and the South Dakota border. People have come from all over the country to visit Monowi, and most importantly, visit Elsie. Take a photo with Elsie at the Monowi Tavern or take a photo next to the rare town population sign of 1. Aside from photo opportunities, this town is just simply worth the visit.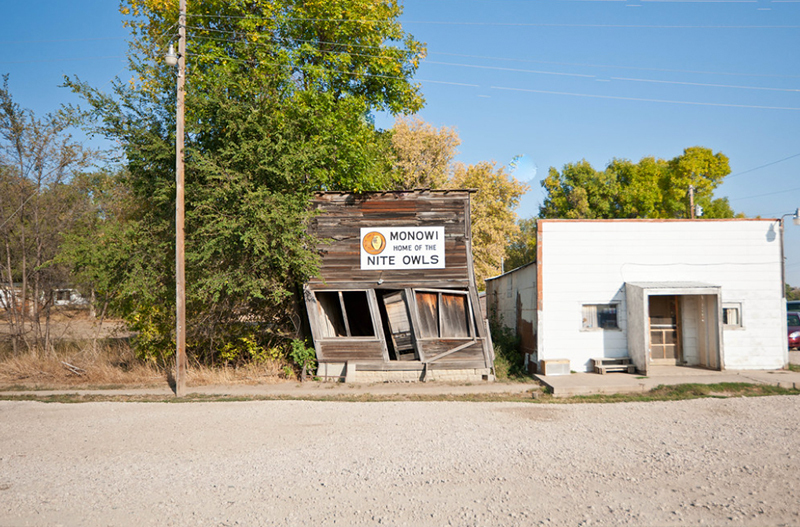 "Monowi, Nebraska" by afiler is licensed under CC BY-SA 2.0
12. Mitchell Park Domes - Milwaukee, WI
Mitchell Park Domes is a conservatory of three adjacent domes in Milwaukee, Wisconsin. It houses three different plant environments / domes: The Desert Dome, The Tropical Dome, and The Show Dome. As you might guess, The Desert Dome is a dry environment, home to plants commonly found in deserts, and The Tropical Dome is a humid environment, home to plants commonly found in rainforests. The Show Dome, however, changes themes five times a year and is typically rooted in a theme that is fantastical or historical. With each dome comes great photo opportunities, and just like we mentioned in our previous blog, 10 Unlikely Locations to Take Amazing Photos, greenhouses simply make for an intriguing, unique photospot!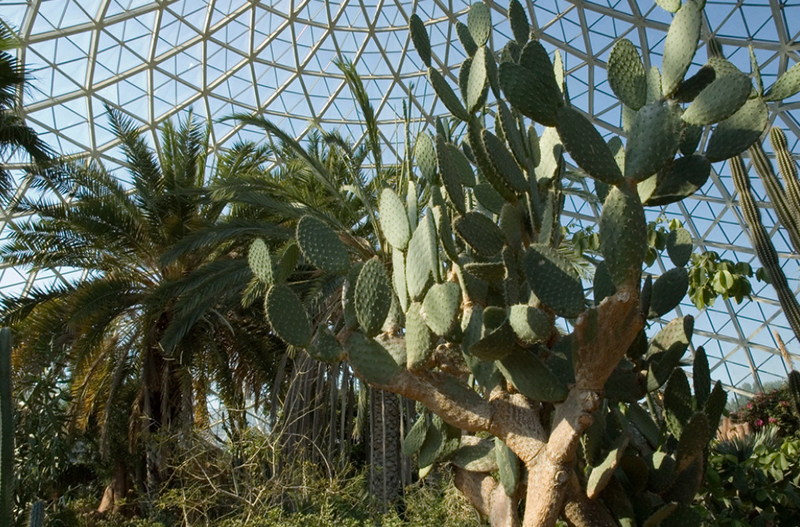 "The Arid Dome" by Brian Lane Winfield Moore is licensed under CC BY-SA 2.0
13. The World's Only Corn Palace - Mitchell, SD
This palace just might be the world's only palace made of corn. The structure itself isn't purely made of corn, but the murals you see outside and inside of the building surely are! These murals change every year, so every year, you can take a new photo! The World's Only Corn Palace is located in Mitchell, South Dakota, and we think this is a good fit for a list that represents the Midwest, being the location of the corn belt and all. Grab your camera or your phone and snap some pics in front of this delightful corn palace.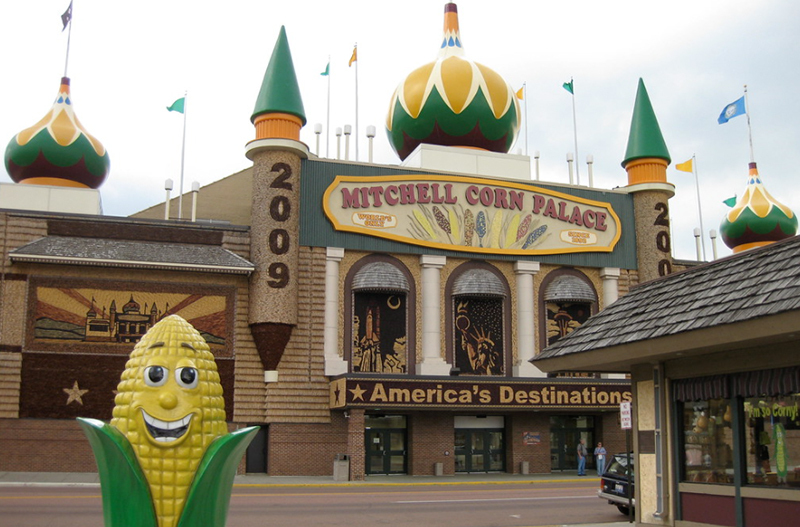 "Corn Man with the Mitchell Corn Palace" by puroticorico is licensed under CC BY 2.0
14. Superman Statue - Metropolis, IL
Stop by the official "Hometown of Superman" in Metropolis, Illinois, and gaze at the giant Superman statue perched on Superman Square! You can snap a selfie with this 12-foot statue and then walk across the street to the red, yellow, and blue-painted Super Museum & Gift Store to brush up on your Clark Kent knowledge (and snap a few more selfies.)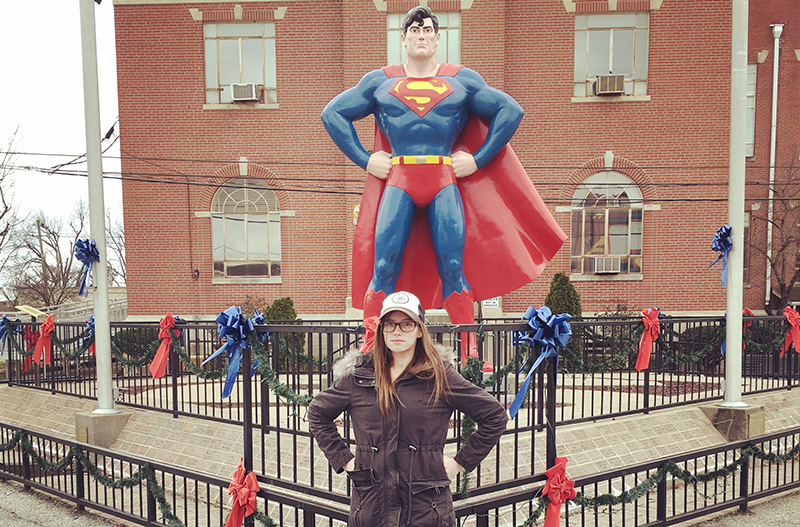 Superman Statue, Metropolis, IL
15. Theodore Roosevelt National Park - Medora, ND
Theodore Roosevelt National Park in Medora, North Dakota consists of a mix of grasslands, badlands, forests, and rivers, which make for a beautifully diverse landscape. It is an over 70-acre national park that offers both hiking trails and roads for driving. With all of this diverse space, there are an infinite amount of Insta-worthy photo opportunities to choose from. We do want to note that this park is a home where the bison roam (mainly in the grasslands), so just keep your distance if you spot one.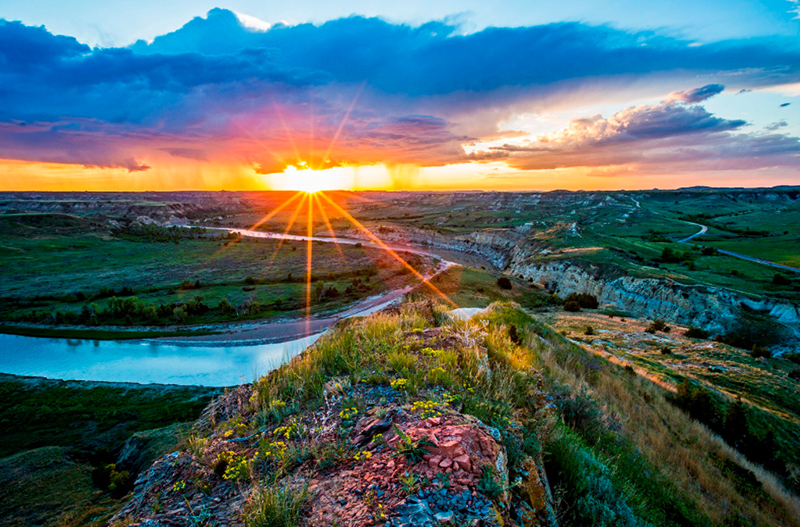 Theodore Roosevelt National Park, Medora, ND
16. Self.e Alley - Evansville, IN
Snap a selfie in Self.e Alley! Self.e Alley is located in downtown Evansville, Indiana and welcomes everyone (the "e is for everyone")! Show your friends where you are by taking a photo in front of the giant Evansville postcard mural, or take a photo in front of the unique mural that is painted in such a way that it looks like it is made of neon signage. (You really need to check this one out.)
17. Gay Parita Sinclair Station - Ash Grove, MO
Built in the early 2000s, this model Sinclair gas station took the place of the original gas station that burnt down in the 1950s. That said, Gary Parita Sinclair Station is not original to the time period it represents, but it sure does make for an interesting representation of what once was! The plethora of signage on and around the building truly make this place stand out. This gem of a photo spot can be found along Historic Route 66 in Ash Grove, just southwest of Springfield, Missouri.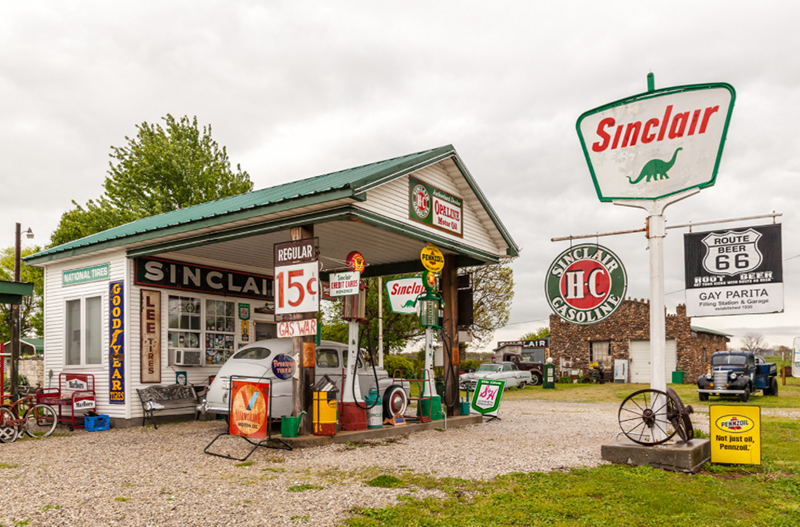 "Gay Parita Sinclair Station Route 66, Missouri" by russellstreet is licensed under CC BY-SA 2.0
18. Franconia Sculpture Park - Shafer, MN
This sculpture park is nestled right in the corner near Highway 95 and Highway 8 in Shafer, Minnesota. Franconia Sculpture Park is a free outdoor sculpture art museum, home to many sculpture exhibits that are created by artists through their residency programs. It is on a 50-acre slot of land, so there are a ton (not literally, but close) of sculptures awaiting to be photographed.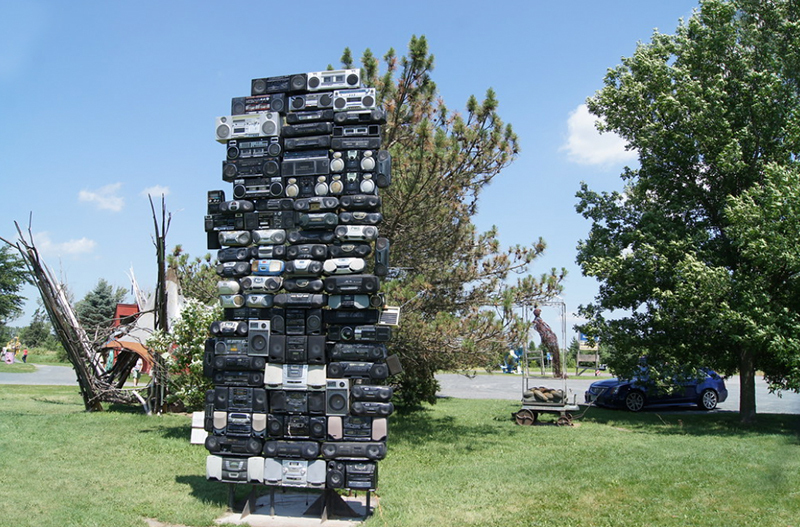 "Franconia Sculpture Park" by Crown Star Images is licensed under CC BY 2.0 (Image edited by Simple Canvas Prints, LLC)
19. Toadstool Geologic Park - Crawford, NE
Since the Midwest is primarily known for grasslands and fields, this Instagrammable spot on our list may come as a surprise to many Midwesterners and others, alike. Located near Crawford, Nebraska, Toadstool Geologic Park is a non-grassy, non-flat land. The park is dry and hilly (badlands), and fossils can even be found from roughly 20 million years ago (just don't take any fossils)! The structure of this terrain gives a beautiful and unique backdrop for photos.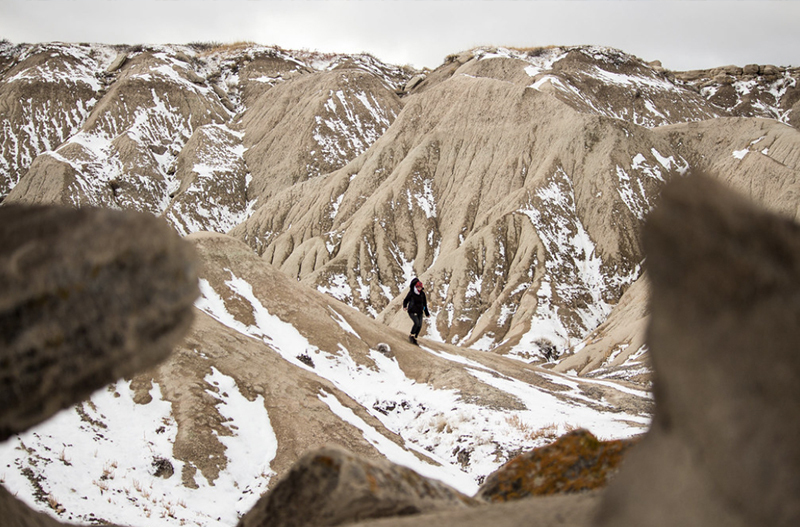 "Toadstool Geological Park #1" by Sumner_ is licensed under CC BY 2.0
20. American Gothic House - Eldon, IA
Did you know that the iconic painting "American Gothic" by Grant Wood was based on a real house that still exists today? If you live in the Midwest, you may be surprised to find out that the American Gothic House is not too far from you (or maybe you already knew)! You can visit the American Gothic House in the small town of Eldon, Iowa in the southeastern portion of the state. They have a visitor center and gift shop. And they even provide costumes for you to recreate the painting for your own photo op!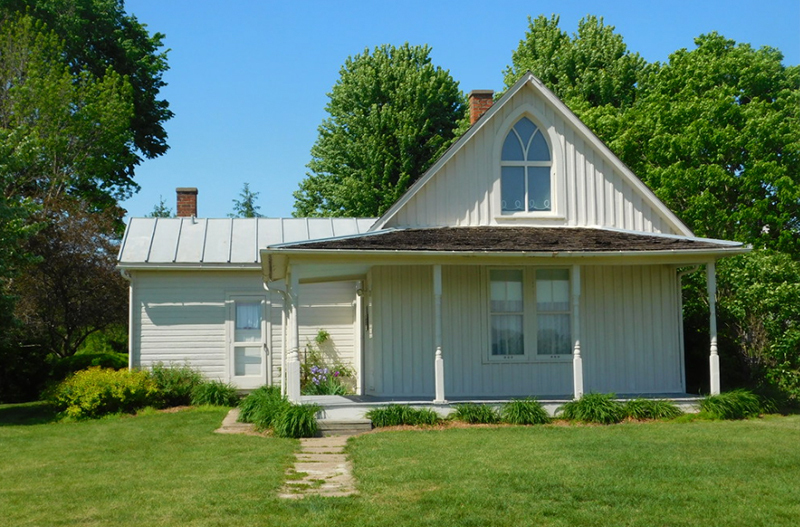 "American Gothic House" by Roadgeek Adam is licensed under CC BY-SA 2.0
There are endless amounts of Instagrammable locations throughout the Midwest. It's covered with beautiful rolling landscapes and unique art and architecture. We know we didn't cover every nook and cranny, but we did cover twenty of our location-specific favorites here! We hope that our list inspired you to check out some of these cool locations (most cool during winter months), and if you snap any Instagram-worthy photos, let us print your favorites at simplecanvasprints.com. Happy exploring!