Winter can be long, dreary, and colorless. Inside the home and out, it's easy to slip into the same old routines and end up isolating and hibernating for those three (or more) months that cold weather hangs overhead. That's why it's so important to arrange and decorate your home in a way that promotes warmth, coziness, and gathering together. By following these easy winter home decor tips, your home will feel like a winter haven instead of a hibernation station in no time!
1. Use Warm Colors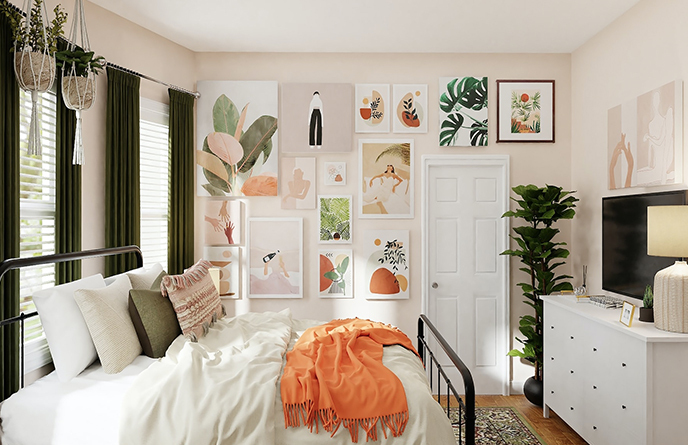 Incorporating warm colors can sound like a challenge, but it's easier than you think! There are a plethora of resources available to pick the perfect palette for each room in your home. Focusing on rooms where you and your family or guests will spend the most time will allow you to create spaces that evoke the feeling of sitting bundled in a blanket with a mug of cocoa and a board game or classic movie. Try using throw pillows, blankets, wall art, and rugs with colors such as rusty red, burnt orange, mustard yellow, and olive green. Mix these with some more neutral colors like warm white and dark brown to balance out the more saturated colorful pieces. Take down your summer or spring wall art of fields and flowers and replace them with a lightweight canvas print of abstract art to elevate your space, or a neutral-toned nature scene so you can enjoy the look of the outdoors without the unwelcome frozen fingers and toes.
2. Switch Out Your Boring White Lights for Warmer Lighting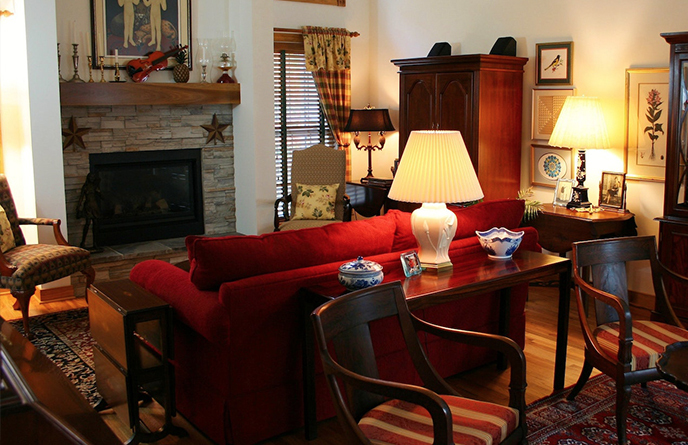 One simple trick to warm up a space is by using warm white LED light bulbs instead of cool bright white. During the cold winter months, the sun, often, doesn't seem to shine quite as bright, so allowing natural light to illuminate your living room just won't cut it. But replacing that natural light with cool white bulbs will make your space feel sterile and unwelcoming. Try fairy lights, lanterns with artificial candles, and lightbulbs that come with a dimming option so you can customize the brightness to your liking. Another tip for making your room feel cozy is to incorporate lamps. Specifically, using lampshades that are paper or linen will help dampen the harshness of indoor lighting and create an additional layer of texture in your room.
3. Layer Up on Blankets and Bedding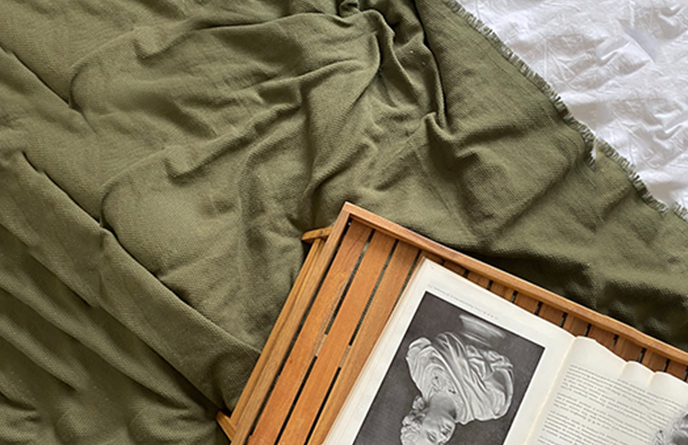 The most natural, yet underrated, way to make your space feel warm during cold weather is by adding blankets! Fleece throw blankets, quilts, and wool blankets are great because they serve to both add texture, color, and dimension to your couches and beds, and to give you and your guests protection from the elements. Draping a blanket or two over your couch is a great way for quick access, but having a stack of blankets just sitting on your chair or couch isn't all that practical. For avid blanket hoarders, try using a wooden chest or chunky weave basket to store your blankets in a cute, space-saving way. If you have a stark empty space on your wall, try a blanket ladder. Easy to thrift, DIY, or buy for relatively inexpensive, blanket ladders are a great way to display your collection of blankets and act as a noise buffer and accent piece.
4. Incorporate Fire

Without a genuine, working fireplace, this tip might sound a little too niche. But fear not! There are a number of ways to incorporate fire into your space to add warmth and the enchanting flicker and glow of a flame. If you have a fireplace that acts as purely decorative, invest in a set of tall off-white pillar candles that vary in height. Arrange them inside the fireplace with a spray of winter greenery, pine cones, dried orange slices, cranberries, or anything else you think could complement your space. During the holiday time, Christmas ornaments could add a cute pop of color. Otherwise though, focus on the idea of making the fireplace have a homey glow - even without the hefty logs and tall flames. If your home does not include a fireplace, try a dining room centerpiece of candles and greenery or a tall ornate candle holder. Finally, if you're willing to spend a little more, a portable fireplace might be a great choice to warm up your space. Not only does it actually produce heat, but most modern portable fireplaces also use ethanol for a recycled, clean burn.
5. Orient your Furniture for Gathering Together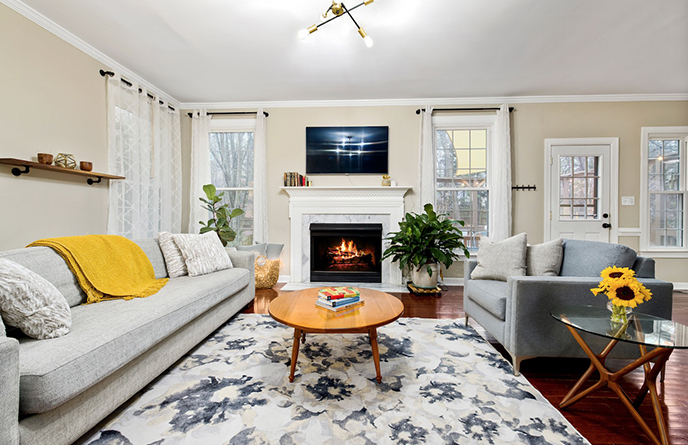 Outdoor activities during the cold winter months can often be reduced to skiing, snowboarding, and snowball fights. But most days, the most appetizing idea is gathering in each other's homes to enjoy good conversation, yummy baked treats, and shelter from the bitter cold. Open-concept, spread-out living spaces are not conducive to this type of gathering, and while we might want big open areas during hot summer months, in winter this just won't do. Try shifting your perspective towards one that is geared towards hosting. Bring your couches, love seats, and ottomans closer together and angle them towards each other. Think of what would be most comfortable if each seat was occupied and everyone was engaged in conversation. Use throw pillows to give people something to lean against, prop a coffee cup on, or even just hold while they're talking. If you have a fireplace in your living room, moving furniture closer to it will also keep everyone warm and cozy while they're chatting late into the cold winter nights.
6. Update Your Wall Space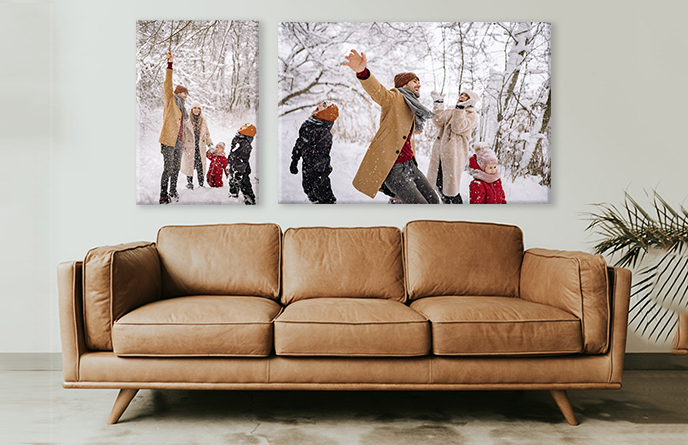 Wall space is an important part of making your home feel cozy. Empty walls and wispy curtains just won't do during frigid winter months. Using warm decor and winter accent pieces can both elevate your space and give your home a cozy feel even when it's far from cozy outside. Translucent curtains are meant to allow natural, bright sunshine into your rooms during the Spring and Summer. But during the winter, insulating, heavy drapes lined with black and deep-toned colors bring a rich feeling of warmth. Using a blanket ladder, like mentioned earlier, is a great functioning decoration to take up space in your living room and provide you the perfect place to hang your blankets when they're not being used. Finally, hanging up canvas prints of art is an inexpensive, lightweight option to make your home feel less empty and more cultured. Adding custom photo prints of your loved ones to your wall is a sure way to add coziness to your space. You can, also, try using a pair of winter-colored abstract art pieces with colors like teal, turquoise, and blue with gold or silver accents. If abstract isn't your thing, art of landscapes with flowers and blooming trees will remind you of outside and bring a calming vibe to your home. Be sure to focus on less bright pinks and yellows and more blues, pale or dusty pink, and more muted tones to avoid it looking out of place and screaming "spring" or "summer" instead of "cozy winter".
7. Add Winter Plants and Foliage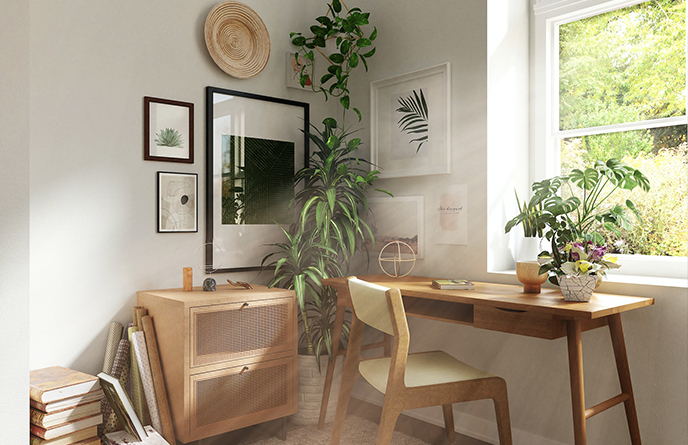 Finally, utilize winter plants to make your space feel alive, even in the dead of winter. There are tons of plants that bloom in the winter that can really make your home feel like a cozy garden escape and add splashes of natural color to any area. Poinsettias are the most commonly known winter flower, but you can also try Begonias, adenium, Moth orchids, peace lily, ixora, anthurium, and crown of thorns. Another option for live plants - if you're not the flowery type - is winter greenery. Pine, cedar, spruce, magnolia, and eucalyptus are great green options to decorate your cozy escape. Wreaths are great for mantle pieces, doors, and table tops and can be wrapped in lights, left bare, or have the center filled with candles for extra warmth and glow. Use garland to wrap around your stair railing for an easy, natural look. Now, those of you who don't have a green thumb might be tempted to opt for faux plants instead of the real thing, but don't forget the importance of scent. Real greenery can offer an inviting, rustic smell that fake plants cannot compete with. However, if faux is more your speed, they offer the great benefit of not shedding pine needles, saving money by being reusable, and not triggering those who may have allergies to outdoor scents and pollen. Regardless of your choice of real or fake, plants and greenery offer a whole world of design and decorative options for your cozy winter home.
So, while the long winter months may make things feel a little less than inviting, that doesn't mean you can't make your home a warm solace from the elements. By using these decorative tips, you'll likely find yourself at the receiving end of some cozy compliments from your guests and family. Whether it be a funky turquoise abstract art piece or a cozy landscape picture you took on your family vacation, Simple Canvas Prints is a great place to turn your personal photos into high-quality custom prints. So get out there and get decorating!