The days are getting shorter, warm-colored leaves are drifting through the crisp air, and pumpkins are ready to be made into pies, which means... Fall has begun! And now that the cookouts and pool parties of summer have come to a close, what better place to be than in the comfort of your own cozy abode on a chilly fall day? The living room is a great place to get together with friends and family and to even have some relaxing alone time. And we have 10 ways for you to make it feel extra cozy with a little bit of fall spice!
1. Start with a fall deep clean.
Think back to the long, hot days and the warm nights of summer: Summer days were spent catching rays, and nights were spent catching fireflies... which may have resulted in a rarely-used (or completely neglected) living room. Sure, there may have been some spot-cleaning every so often, but it's probably been a while since the couch was moved to clean up the food crumbs that fell through the cracks or since the headboards had a good dusting. And it's difficult to feel cozy in a dusty, dirty space. Before you add cozy fall things to the mix, give your living room an extra-thorough cleaning.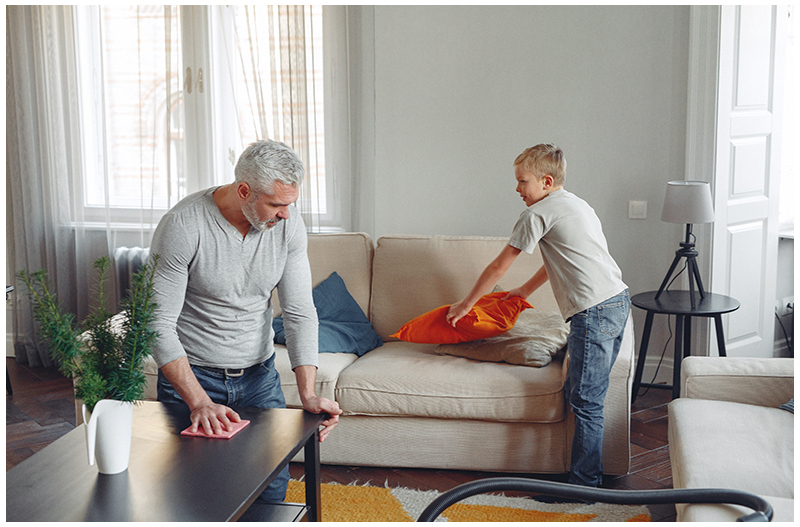 2. Turn off (or dim) the overhead lighting.
Did you know that lighting can affect your mood? If it's daytime, open the curtains and let that natural fall daylight shine in! And once the sun goes down, refrain from turning on that harsh overhead lighting, and opt for some cozier, warmer mood lighting that's a little more eye-level. This might include turning on some lamps instead, or bringing out the white string lights to drape over windows and mantels. And if you have a fireplace, turn on the fireplace to not only warm up the room, but to also add some cozy lighting (win-win)! Trust us.. lighting is one of the key factors in creating a cozy fall living space!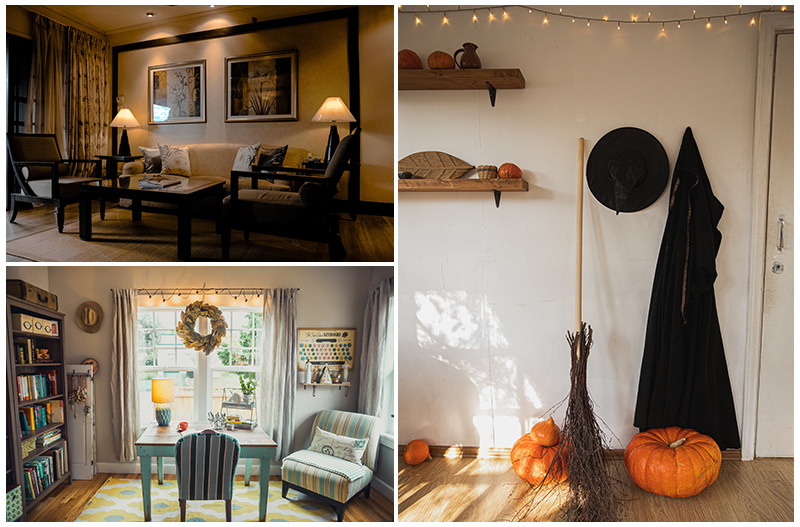 3. Bring on the good smells.
A warm fall scent is essential for a cozy fall living room! You can add some of your favorite fall-scented candles to not only make the room smell like a freshly baked apple pie, but to also add some extra light for an even cozier ambience. You can even spruce up the candles by placing them in fall-inspired candleholders! But if candles aren't for you, essential oil sticks might be the way to go! There's no fire involved, and you can still get some of those cozy fall scents to fill the room. Both options are decorative and make the room smell fall-fresh and cozy! And they can both be made into a fall centerpiece on a coffee table or a mantel. Here are some of our favorite scents to get you into the fall spirit: apple cider donut, vanilla, maple, autumn leaves, pumpkin spice, cinnamon apple, and pecan pie... to name a few.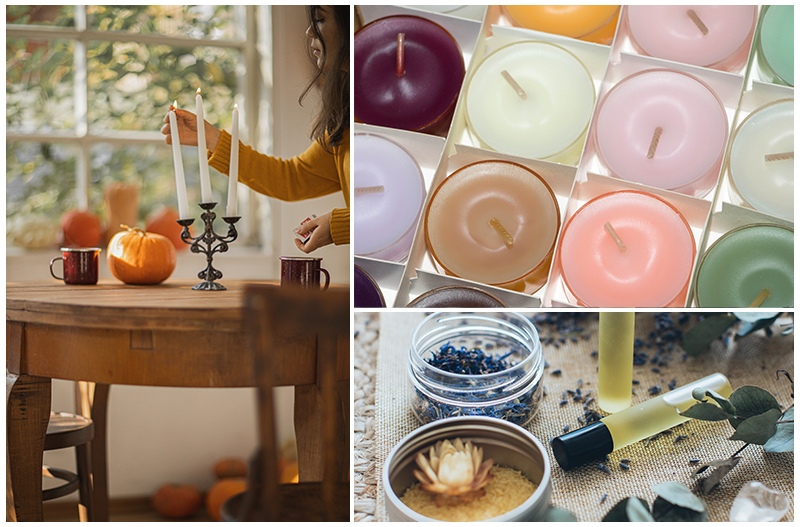 4. Add a blanket or two.. Or five.
That decorative throw blanket that lays on the back of the couch all year round might not be enough for the chilly fall season.. A living room could use at least one more blanket to feel a little extra cozy. And it's a great way to incorporate the warm colors of fall into the mix of your living room home decor! Add in a blanket in the color of cream, mustard, rust, orange, brown, or even red. It can be draped over the back of the chair or couch, or it can even be displayed and folded neatly under the coffee table or in an an open basket on the floor. Wherever you put the extra blankets, they probably won't stay there for long... Everyone will be using them to bundle up to get warm and cozy!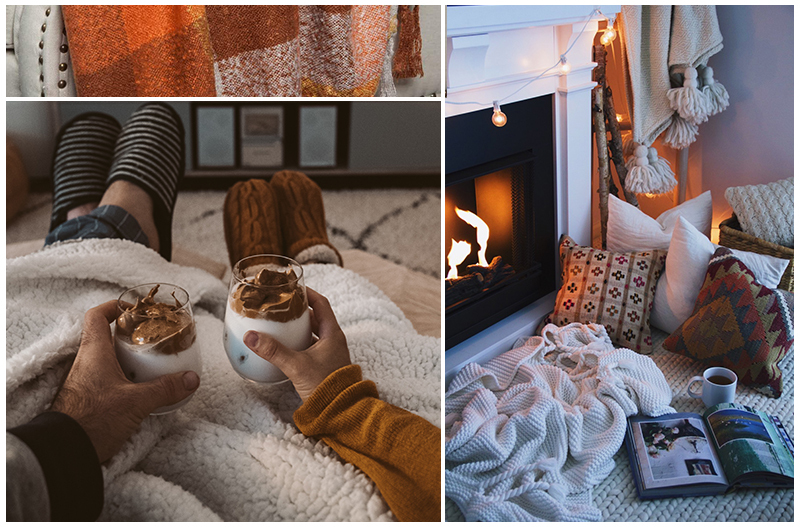 5. Mini pumpkins! Need we say more?
Okay, we'll say a little more on this.. Cozy fall decor needs at least one pumpkin-something (we may be preaching to the choir here). And mini pumpkins are cheap and plentiful this time of the year! They can also go just about anywhere in a living room, which make them such a simple fall decor element. Put one (or ten) on the TV stand, the windowsill, the coffee table, the side table, the mantel, the fireplace... you get the idea. But if you're not a fan of the classic orange pumpkin color, mini pumpkins can still work: use white pumpkins or paint them with the color scheme that makes your space feel the coziest (i.e. white and gold, emerald green, blush pink, yellow. etc.).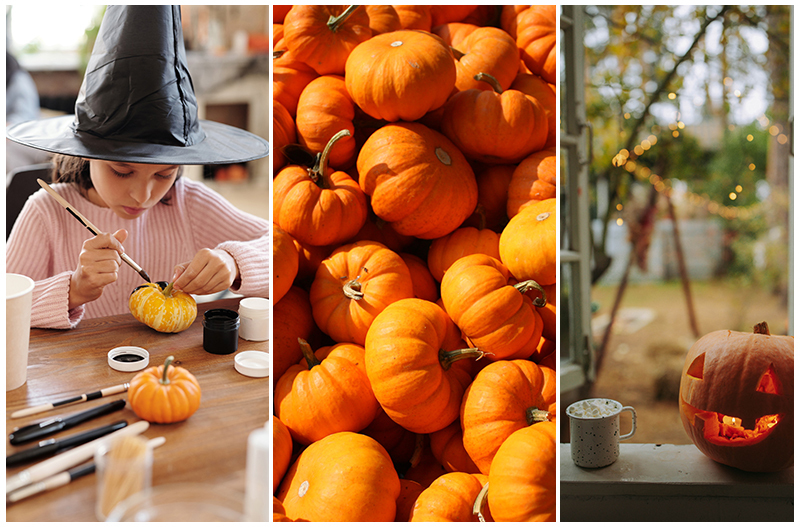 6. Have snacks at the ready.
Candy availability is at an all-year high. Apples are being picked. And the party is moving indoors.. Are you thinking what we're thinking? ..Snacks should be available at all times in the living room! Now that summer is over, the living room has become the new hub for get-togethers and relaxing moments. Think about reading a book or watching a movie while bundled up on the couch, and having a whole bowl of snacks by your side to snack on at any given moment... Now that's cozy! A basket of freshly picked fall apples or a bowl of candy are both fall staples, and having them displayed in the living room adds to the seasonal decor!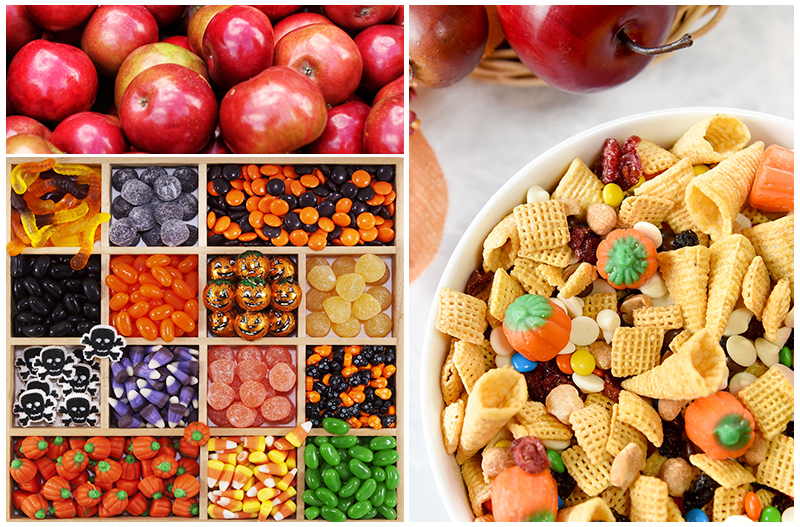 7. Throw in some wicker and wood.
Cozy fall decor is heavily influenced by rustic elements (farmhouse style) and nature, which means that natural (or natural-looking) materials are often used, such as wicker and wood. Of course, you can make major changes, like swapping out the current coffee table for a new wooden coffee table or adding in a wicker chair to the mix of seating. But even adding in a subtle, small amount of wicker or wood is enough to make your space start feeling like fall! Setting a wicker basket or a wooden bowl full of pine cones, acorns, and gourds on top of the windowsill will add a beautiful fall touch. And don't forget that those warm mugs of apple cider need a place to rest: add in some wooden or wicker drink coasters across the living room table tops.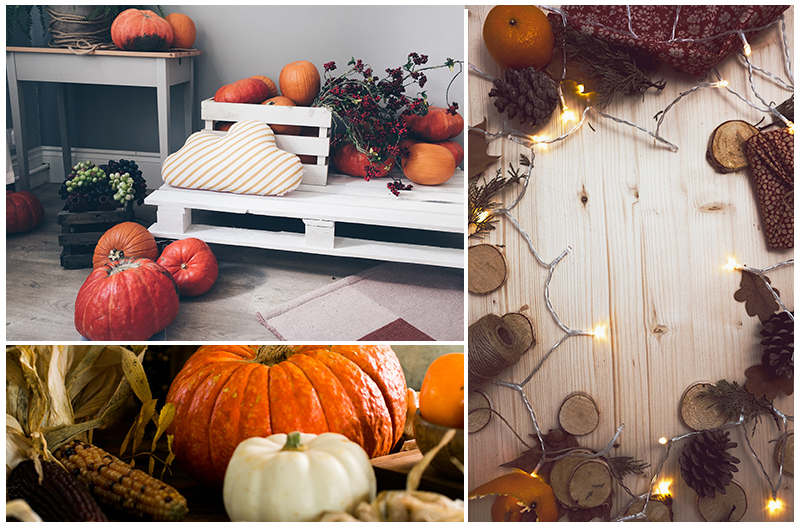 8. Plush it up! Fall style.
Soft and cuddly plush always help make a space feel a little extra warm and cozy! Plush can be strictly decorative, or it can be both decorative and practical. Decorative-only plush typically consists of plush dolls and figures that might be placed on a mantel or other tabletop spot, such as plush pumpkins or a small plush scarecrow with legs that dangle (think Elf on the Shelf, but fall). Decorative plush that also doubles as comfort can include throw pillows and plush blankets. (We won't harp too much on the blankets here since we already heavily discussed this above.) Pillows, just like blankets, are another simple way to add fall coziness to the mix: you can add warm fall-colored pillows or even go extra fall and get some fall-specific designs, like pillows with embroidered pumpkins and sayings or maybe even some Halloween-themed pillows if that's more your style.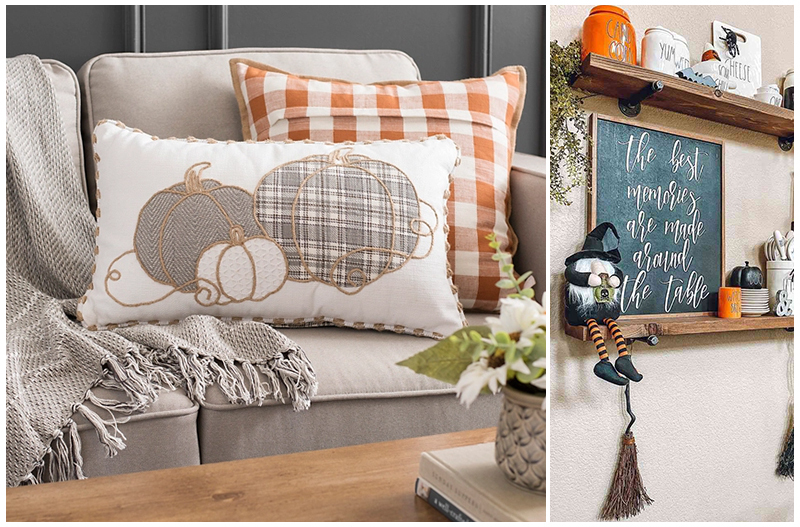 9. Sprinkle in some garland.
Garland isn't just affiliated with winter and Judy... There's fall garland, too! Fall garland works well above couches, lain across coffee tables, draped over TV stands, wrapped around entryways, and hung over mantels. You can DIY some garland or buy pre-made garland. Common types of fall garland include fall flowers (real or fake), pinecones, wheat, fall leaves (real or fake), and craft materials such as paper and pom pom balls.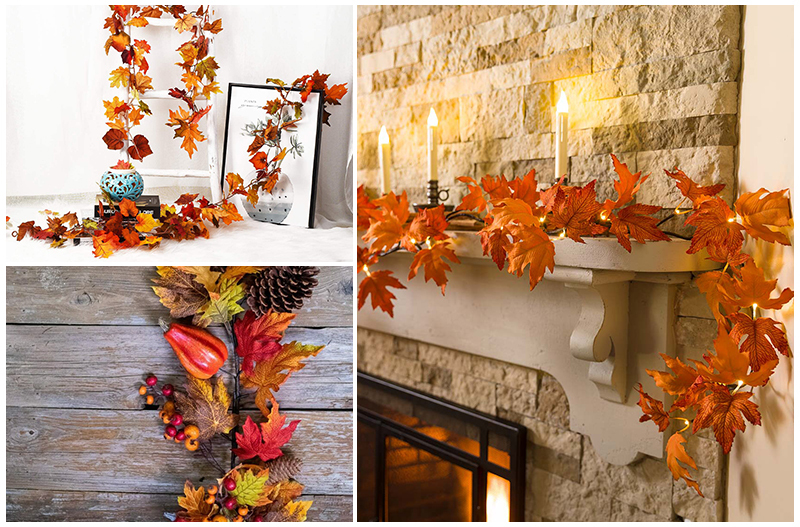 10. Make it yours.
The coziest space has a personal touch. Add in items that bring personal comfort, such as handmade crafts, humorous or meaningful quotes, and family photos. Fall-ifize it with a fall family photo printed on canvas or a fall-colored custom star map. Being able to sit on the couch or in the easy chair and be surrounded by meaningful photos and items is the ultimate form of warm and cozy. Whatever it is that makes your living room feel like yours, be sure to incorporate it!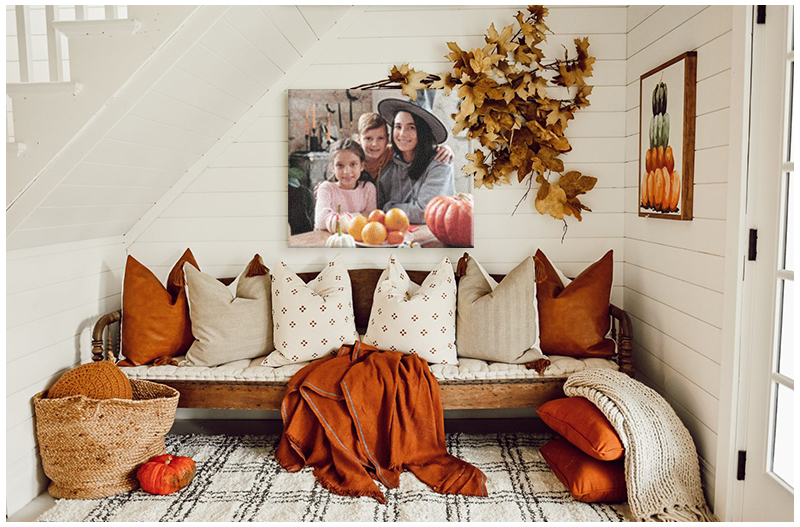 We've offered up 10 tips on how you can make your space feel fall-cozy! Fall decorating doesn't need to be over the top or expensive (but it can be if that's your thing!), and creating that perfect fall feel is all about what's coziest to you! And when you've finished decorating, be sure to soak it in and enjoy the warm comforting ambience that you've created this season.