Living rooms can be a place for gathering with friends and family, relaxing with a book, or focusing on projects, making it one of the most versatile rooms in your home! And for some of you, your living room may be on the smaller side, possibly even sharing an area with your dining room table. With the right selection of furniture and decor, you can make your living room feel larger than it actually is and cozier than you thought you could!
Choosing the right furniture
A great way to keep your small space organized is to get furniture that is multi-functional. Opt for non-bulky, yet comfortable items, that come with some storage. A small coffee table with drawers or an ottoman with storage space is a great way to keep things tucked away and eliminate any potential clutter. For those useful items that are also pretty to look at, adding shelving to the wall or a small bookshelf against a wall is a way to store chic and functional items while making them a part of the decor. In addition, adding mirrors or other reflective items to your living room will make your room feel larger.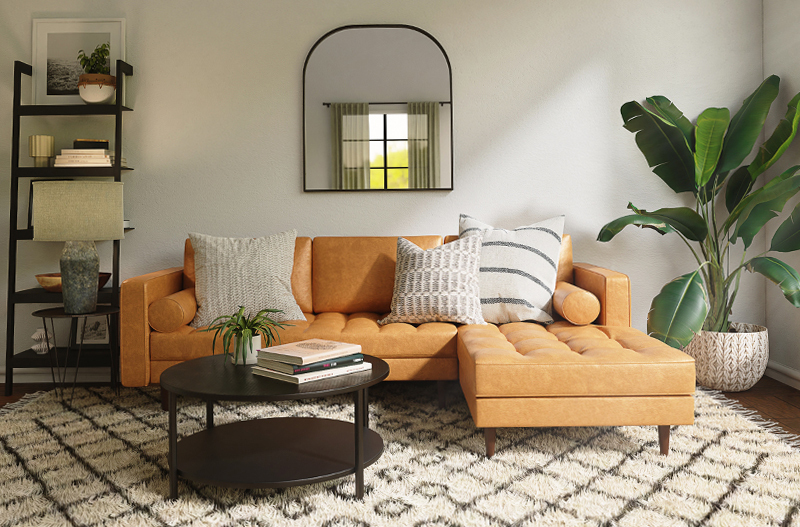 Avoid bulky sectional sofas that take up most of the room, and opt for a smaller sofa, possibly even two small sofas sitting across from each other if your space allows for it. Plus, a couch that stands on four legs, rather than one that sits on the ground, will make the space feel larger since it allows for the floor to be seen underneath.
If your living room is also your dining room, separate the dining area from the lounge area by putting an area rug in front of the sofa or placing a pendant light above the dining table. Making a distinction between dining and living room, even though they share the same four walls, will make it feel like two separate spaces.
Let the light shine through
Any space can feel bigger and more inviting with the use of natural light when possible! Rather than dark, thick curtains, try using sheer curtains on the windows that will allow maximum light to come through. In addition, we recommend using curtains that extend to the floor to make the height of the room feel taller. When the sun goes down and you need to use other sources of light, try some eye-level lighting such as table lamps, floor lamps, or pendant lights.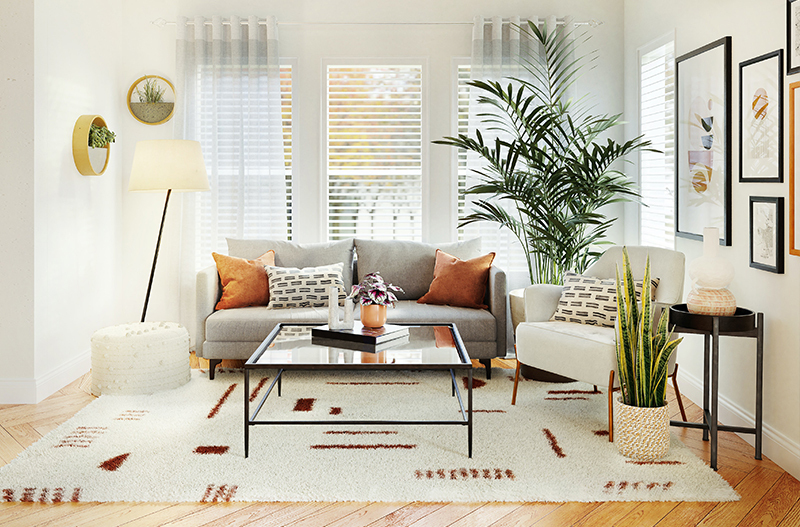 Picking a color scheme that complements
One of the most common approaches to expand any space is the use of light colors, such as ivory, beige, or light gray. In small living areas, light and neutral colors work better than dark, oversized pieces. Using mostly light colors, especially on the walls, will make a small room instantly appear more open and spacious. However, this is not to say that you can't get creative and add some of your favorite colors! Adding pops of color, whether it be through wall art, throw pillows, or a small area rug will add interest to the space and allow your personal style to come through. In addition, to make the space even more dynamic and unique, you can add pops of bold patterns, such as floral, cheetah print, or chevron.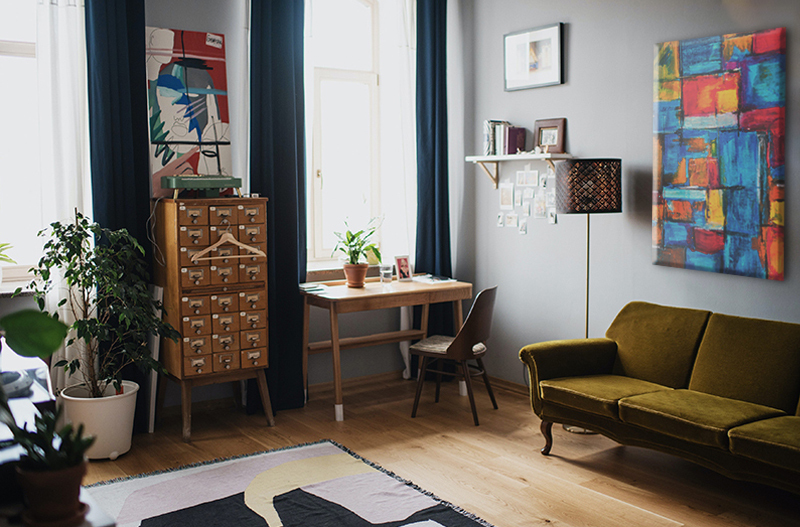 Unique wall art
Picking the right wall art will tie together the furniture and color scheme! You can use wall art to add pops of color into the room, or if you already incorporated a lot of color in other ways, opt for black and white wall art, such as customizing a black and white canvas diptych. With Simple Canvas Prints, you can choose from art pieces or upload your own photos to create custom canvas prints or glossy wall tiles. Are you ready to maximize your living room space?