A cozy reading nook is the perfect place to relax and unwind from the day with a good book. Whether you want to escape from the hustle and bustle of everyday life or simply enjoy a quiet moment alone, a cozy nook can provide you with the perfect space to do so. If you're looking to create your own cozy space at home, we have some tips to make that vision a reality. Whether you have a bay window or just a corner, we've got ideas that will help you make the most of your space.
Invest in Comfortable Seating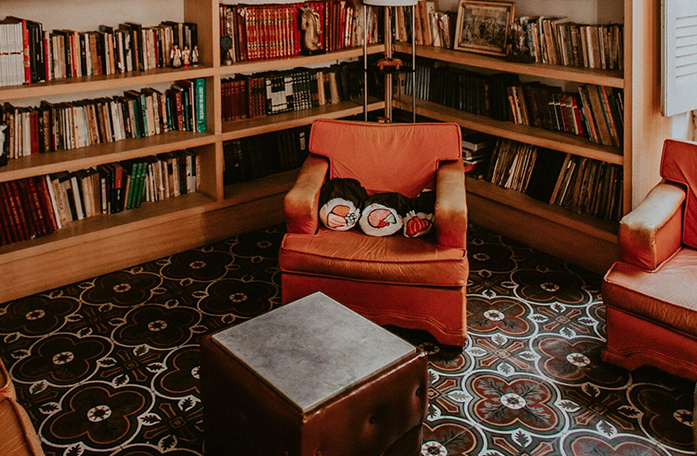 The first step in creating a cozy reading nook is to invest in comfortable seating. Whether it's an armchair or a cushioned bench seat in a bay window, make sure you prioritize a cozy spot to sit and relax. Consider the style of seating that best suits your needs and preferences. A comfortable armchair with a high back can be a great option if you want to curl up and relax, while a swivel seat or rocking chair with a rocking footrest can provide a soothing motion to help you unwind. Feeling extra fancy? Take a trip to a local antique shop and see if you can find a chaise lounge to give your nook an elegant look. If you have limited space, consider hanging seating like an egg seat, hammock chair, or hanging basket chair. You can also create a cushioned pillow corner for a casual and inviting spot to relax.
Surround the Space with Bookshelves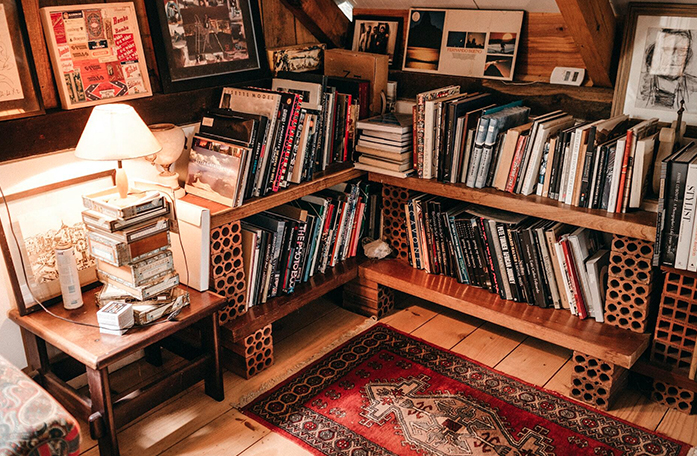 One of the main purposes of a reading nook is, of course, for reading. So, it's important to have easy access to your favorite books. Consider using built-in bookshelves to surround your nook. This not only provides ample storage for your books, but it also creates a cozy atmosphere that feels like a home library. Decorate the shelves with wooden accent pieces and cozy, warm colors to make the space feel inviting, and don't be afraid to include a few haphazard-looking stacks of books to make your space feel lived-in and personal.
Make Comfort Your Top Priority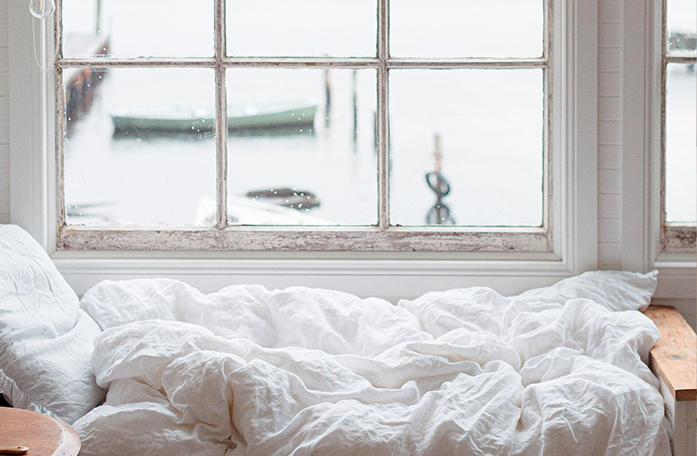 The key to a successful reading nook is making it as comfortable as possible. When designing your nook, consider every element of comfort, from the seating to the lighting. Choose a perfect location that allows you to wind down at the end of a long day. Use lighting that encourages rest, and employ chunky knit blankets and soft fleece to make your space feel warm and inviting. You can even add some live or faux plants to bring a touch of nature to your space. Faux baby's breath or a lovely lavender bush will add to the comfort. Fake vines or foliage hanging from the tops of wooden shelves will make your nook feel like a portal to a whimsical land and transport you away from life's stressors - if only for a moment.
Pick the Perfect Location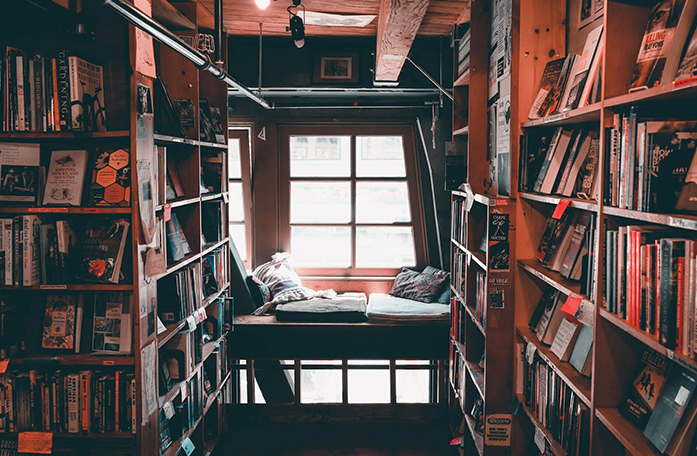 When it comes to creating a reading nook in your home, the location you choose is a crucial factor in determining how comfortable and inviting it will be. A quiet spot in your home, such as a corner, hallway, stairway landing, or bay window, can provide the privacy and seclusion you need to truly unwind and relax with your favorite book. It's important to consider the traffic flow of your home and choose a location that's free from distractions and noise. If you're short on space, don't be afraid to get creative - you can even transform a closet into a cozy reading room by removing the doors, building a bench, and adding cushions and pillows. The possibilities for creating your perfect cozy nook are truly endless, so don't be afraid to think outside the box and choose a location that makes you feel relaxed and content. Whether it's a bay window with a view or a cozy corner with a throw pillow and blanket, the right location can make all the difference when it comes to creating a space that you'll truly love to spend time in.
Accent the Walls with Art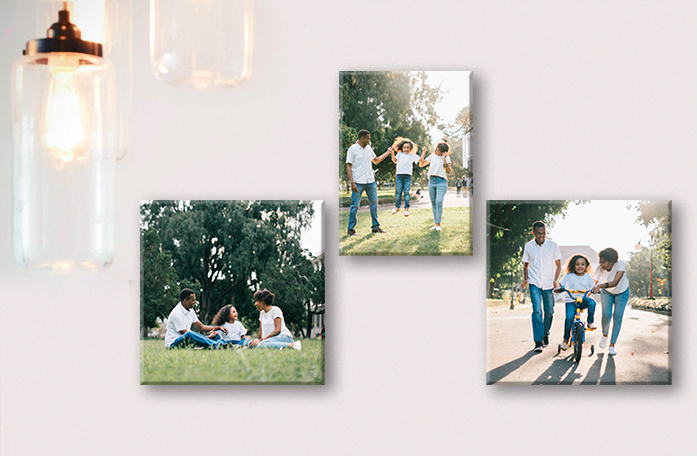 Art can be a great way to create a calming atmosphere in your cozy nook. Consider using art prints on canvas or customized canvases with your own photographs to add a personal touch to your space. Look for art that evokes calm and matches the colors of your room to create a cohesive and relaxing atmosphere. You can also use accent pieces and decor to add to the aesthetic of your space. Wooden decor can add a rich and deep decor style that goes perfectly with a cozy reading nook. Make your seating arrangements an accent color or a rich color that adds to the warm and inviting atmosphere.
Get with an Interior Designer to Help You Perfect Your Space

If you're not sure how to incorporate interior design or decorate your cozy nook, consider working with a professional interior designer. They can offer insight as to the best location, the proper ratios, the perfect decor, a great color scheme, and optimal relaxing furniture and storage. An interior designer can help you perfect your space and turn it into the ultimate cozy nook. They can also help you choose the perfect fabrics, lighting, and other details that will make your space comfortable and inviting.
Use Storage to Keep Your Space Tidy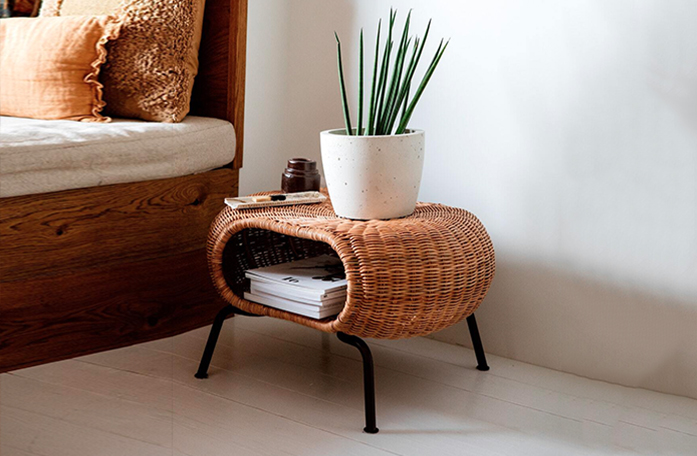 Clutter can quickly take away from the cozy atmosphere of your reading nook. Use bookshelves, a side table with drawers, or built-in storage to keep your books and other items organized and out of sight. A tidy space will make your cozy nook even more inviting. Consider using a side table with drawers to keep your note-taking materials and other items organized and within reach.
Consider a Window Seat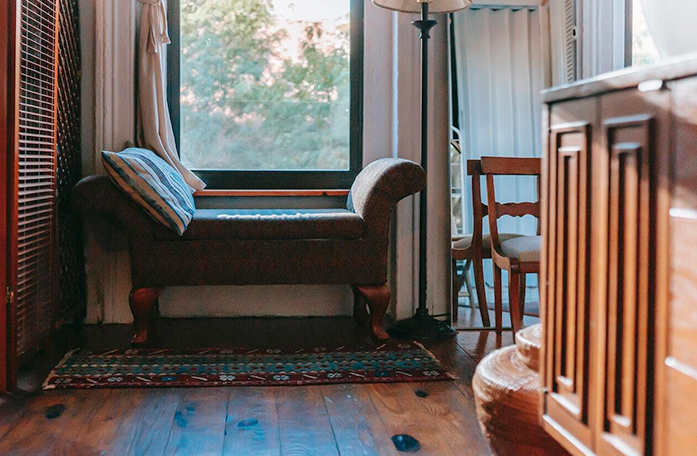 A bay window is a unique architectural feature that can be transformed into a cozy reading nook with just a few simple additions. Consider adding a cushioned bench seat to take full advantage of the natural light and stunning views that a bay window provides. Enhance the cozy vibe by adding some throw pillows and a soft blanket to snuggle up with. Whether you prefer bold patterns or neutral tones, adding decorative accents to your bay window nook can help to create a warm and inviting atmosphere. With the perfect blend of natural light, comfortable seating, and cozy decor, your bay window can become a favorite spot to relax and unwind in the comfort of your own home.
Choose the Right Cushion

When it comes to seating in your cozy nook, the cushion is just as important as the style of the chair or bench. Look for cushions that are comfortable and supportive, but also add to the aesthetic of your space. Consider the material, color, and texture of the cushion to ensure it fits with the overall look and feel of your cozy nook.
Add a Personal Touch

Make your reading nook feel like your own by adding personal touches that reflect your personality and style. Consider adding a framed photo or artwork that has special meaning to you. Add a blanket or pillow with your favorite colors or patterns. Choose decor pieces that reflect your interests and hobbies. Adding personal touches will make your nook feel even more inviting and special.
Creating a cozy reading nook in your home is a wonderful way to create a space that's all about relaxation and comfort. To make the most of your reading nook, it's important to invest in comfortable seating that you can sink into and lose yourself in a great book. Surrounding the space with bookshelves will help you keep your favorite books organized and within easy reach. Making comfort your top priority is key, so consider factors like lighting, textiles, and decor to create a warm and inviting atmosphere. The location of your nook can also have a significant impact on how comfortable and inviting it is, so take the time to choose the perfect spot that's free from distractions and noise. Accenting the walls with art or decor that creates a calming atmosphere will help you feel even more relaxed in your nook. To add a personal touch to your cozy nook, consider including canvas prints. With the ability to create your own prints or choose from a wide range of designs, canvas prints can add a unique and personal aesthetic to your space. Using storage solutions like bookshelves and side tables with drawers will help keep the space tidy and free from clutter. Consider consulting with an interior designer to help you perfect your space, and don't forget to add personal touches that make the space feel uniquely yours. With these top tips, you'll have the perfect cozy nook to relax and unwind in whenever you need a break from the outside world.