Old photos tend to hold a special place in our hearts! They're a beautiful reminder of our family history, evoking a sense of nostalgia and connection to the past. If you're looking to add a touch of vintage charm to your home decor, displaying these precious images in creative ways can be both personal and rewarding. From DIY gallery walls to repurposing materials, we'll explore various decorative styles, photograph preservation techniques, and unexpected ways to decorate with these timeless treasures.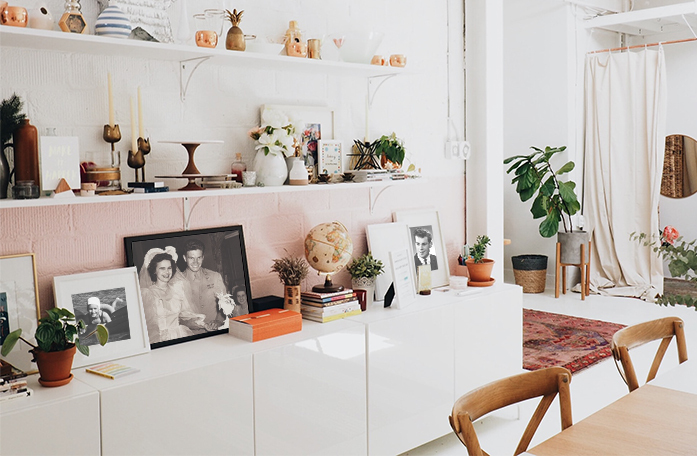 DIY Gallery Wall: Curating Your Family's Story
A DIY gallery wall is a perfect way to showcase your antique photos and create a stunning focal point in your home. Start by selecting your favorite family photos and arrange them in a way that tells a story. You can opt for a chronological layout, thematic groupings, or even mix and match different sizes and orientations. Don't forget to include vintage photography prints and other wall art to complement your collection.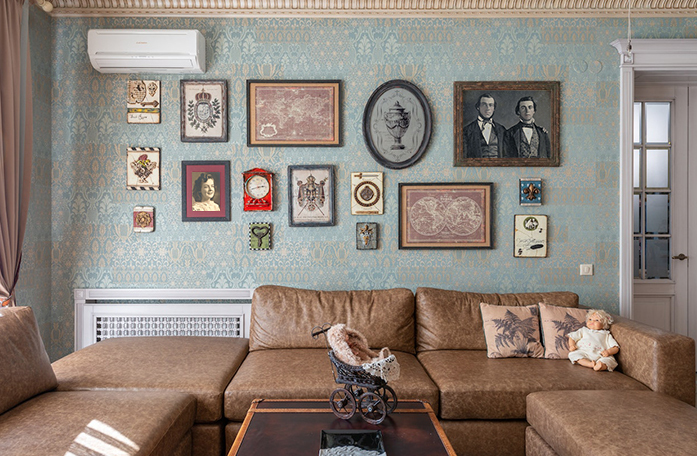 When choosing photo frames, consider a mix of styles and materials that harmonize with your home's decorative style. Repurposed photo frames, shadow boxes, and vintage bottles can add a unique touch to your gallery wall. To make your display cohesive, try coordinating the colors and textures of your frames with your home's overall design theme.
Memory Boards and Wall Collages: Mixing Media and Memories
Memory boards and wall collages offer another fantastic way to display your antique photos. Incorporate mixed-media elements like memorabilia, vintage postcards, and old newspaper clippings alongside your family photos. This not only creates visual interest but also provides a deeper glimpse into your family's history.
Show Off Vintage Photos with Creative Hanging Systems
Explore alternative hanging systems for a stylish family photo display. Suspended from an antique clock or attached to a repurposed ladder, these unexpected methods can make your vintage photos the center of attention.
Preserve Your Antique Photos with Proper Care
Photograph preservation is crucial when working with antique photos. To maintain the integrity of your cherished memories, store them in acid-free photo albums, archival boxes, or opt for digital archiving. If you're displaying your photos on a wall, make sure to keep them away from direct sunlight and fluctuating temperatures.
Transform Your Vintage Photos with Canvas Prints
For an updated twist on your vintage photos, consider turning them into canvas prints. Simple Canvas Prints offers a high-quality and customizable solution, allowing you to create beautiful wall art that preserves your family history while adding a modern touch to your home decor.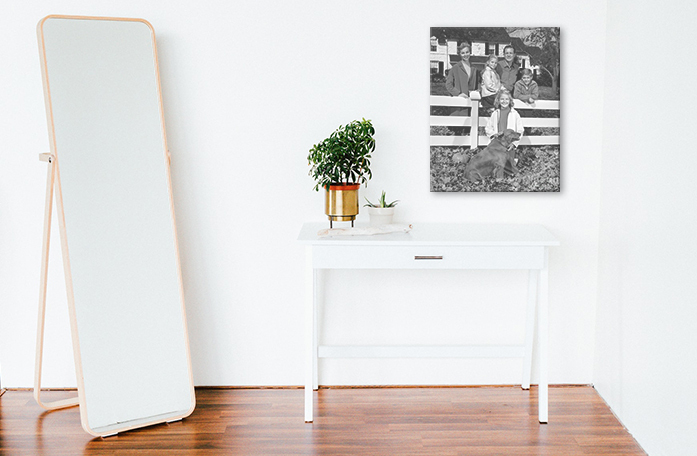 Repurposing Materials for Displaying Vintage Photos
Get creative with repurposing materials to display your antique photos. For instance, use an old window frame as a multi-photo display or create a collage of images inside a vintage suitcase. These innovative ideas not only highlight your family history but also add an eco-friendly touch to your home decor.
Decorating with Antiques: Adding Personal Touches
Incorporate your family's genealogy into your home by decorating with antiques that have personal significance. Pair your vintage photos with heirlooms like an antique clock, a family quilt, or other artifacts to create a display that reflects your heritage.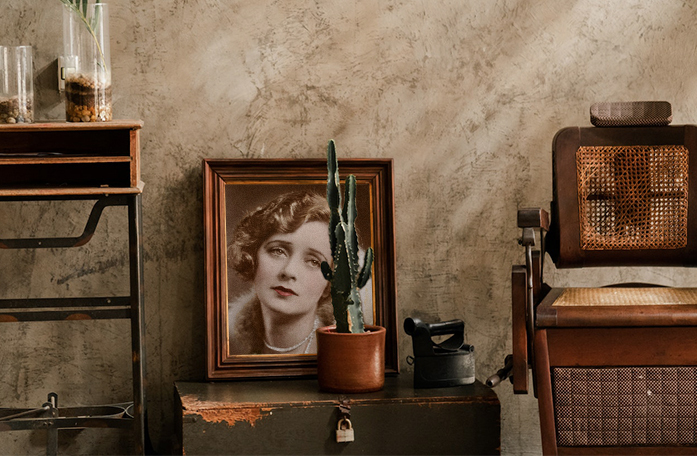 Showcasing Large Photography for Maximum Impact
Don't be afraid to go big with your vintage photos. Enlarge your favorite images and display them as large photography prints for a striking, eye-catching effect. This approach can add depth and dimension to your space while showcasing your family's history in a bold and captivating way.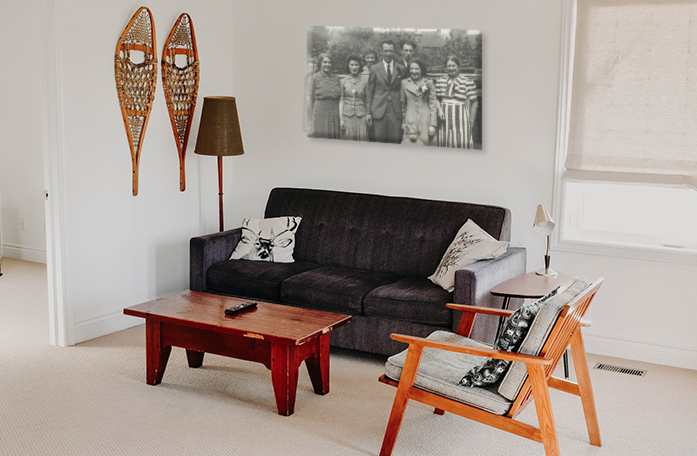 Embrace the Art of Collage: Creative Groupings and Compositions
Another way to display your antique photos is through collage. Combine different photos, textures, and materials to create a unique and visually appealing composition. You can experiment with various layouts, incorporating vintage postcards, newspaper clippings, and other memorabilia to enhance your display. This method is particularly well-suited for repurposed photo frames or shadow boxes.
Explore Unexpected Ways to Decorate with Antique Photos
Don't be afraid to think outside the box when it comes to decorating with your vintage photos. Experiment with unconventional display methods, such as using an antique serving tray as a photo frame or attaching your photos to a decorative room divider. These unexpected ways to decorate can add a touch of whimsy and surprise to your home while still honoring your family history.
Stylish Family Photo Displays: Curating a Cohesive Look
When displaying your antique photos, consider curating a cohesive look that aligns with your home's decorative style. You can achieve this by selecting frames, materials, and layouts that complement your existing decor. For example, if your home has a rustic farmhouse aesthetic, opt for distressed wood frames and natural materials like burlap or linen for your family photo displays.
The Art of Repurposing: Breathing New Life into Old Frames
Breathe new life into old photo frames by repurposing them for your vintage photo display. You can paint or distress the frames, add decorative elements, or even combine multiple frames to create a unique, multi-photo display. This eco-friendly approach not only adds character to your home but also gives your antique photos a fresh, updated look.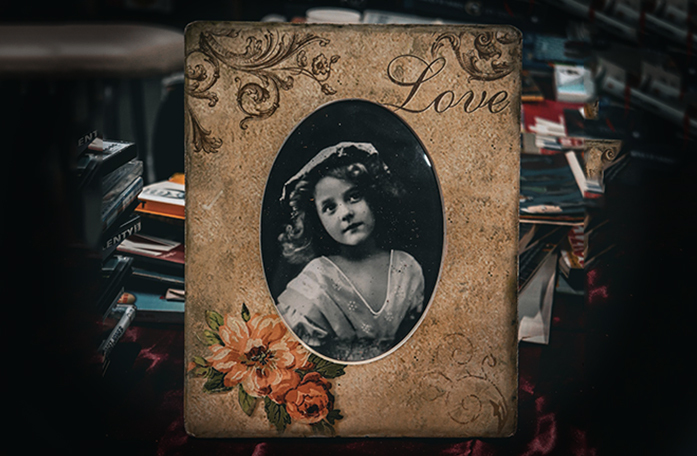 Displaying antique photographs in your home is a beautiful way to celebrate your family history and add a personal touch to your decor. From DIY gallery walls to repurposing materials and exploring unexpected ways to decorate, there are countless creative and stylish options for showcasing your vintage photos. By incorporating these techniques and preserving your photographs properly, you can create a stunning, meaningful display that honors your family's story and adds a timeless charm to your living space. And with the help of Simple Canvas Prints, you can effortlessly transform your treasured memories into modern, eye-catching wall art that will be cherished for generations to come.