When it comes to choosing a print material for digital photo prints or art prints, you'll want to choose the best for your time, money, and aesthetic. And though materials such as metal, acrylic, wood, and photo paper have some appeal, we're here to talk about the benefits of choosing canvas for your decor prints.
Distinctive
We're used to seeing framed photo paper prints in homes. There's no doubt that these are some of the most common methods of displaying prints. And while they can be a tasteful form of decor, we've become so accustomed to seeing a framed photo print, that they don't stand out in the crowd unless they're displayed at a large scale or in a unique fashion. Canvas prints provide a WOW factor no matter the size or display! They are 3-dimensional, making them literally stand out from the wall. In addition, the printed image can wrap around the sides of the canvas, making the image itself become 3-dimensional. The canvas material also allows for bolder colors than materials such as metal or wood, and it lacks the glare that a framed photo paper print would have. If you want your print to stand out in a space, canvas prints truly achieve this, working well with any decor style.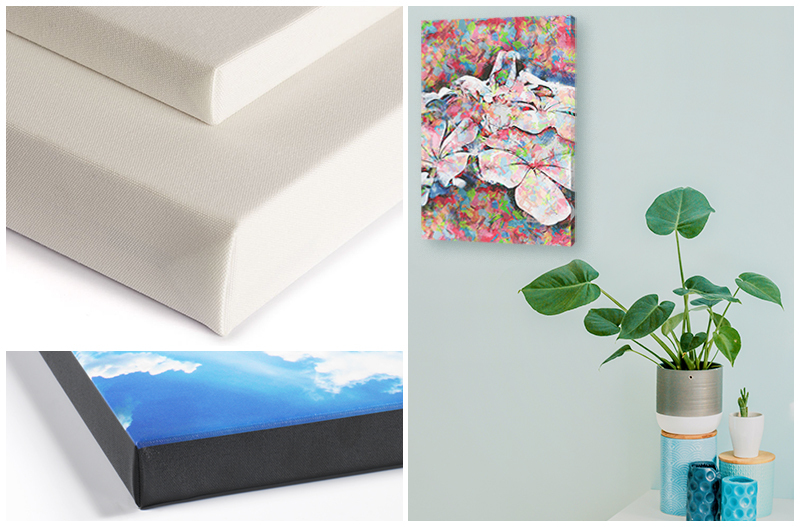 Versatile
Canvas prints can be displayed as home decor in a living room, bedroom, kitchen, laundry room...nearly any room in your home! And they can be displayed on top of a desk/dresser as well as on a wall. But here's where canvas prints truly shine in versatility: unlike traditional framed prints on photo paper, they stand out and work well in professional and public settings, such as office spaces, schools, restaurants, and hotels, just to name a few! Canvas prints are not limited to photo prints, as they can be used to print designs, logos, and information. For example, a doctor's office can display a canvas print containing informative health facts or helpful tips regarding health, using both text and imagery. An office lobby can have their logo displayed on a canvas print. A classroom can have an inspirational quote made into a fun piece of canvas art for kids, making canvas prints one of the most versatile materials to print on.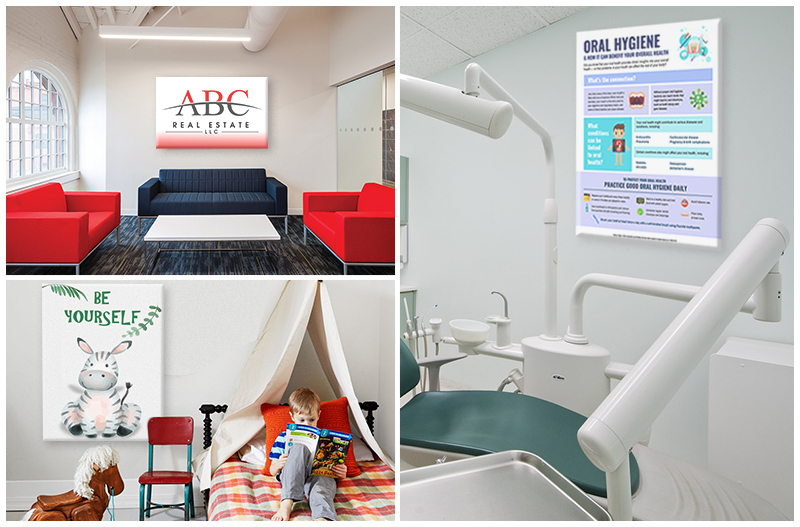 Range of Sizes
There are plenty of sizes to choose from when it comes to canvas prints. At Simple Canvas Prints, we offer individual size options ranging from 8x8 to 30x36, and these canvases can cover even more space by creating a wall display of a variety of canvases or creating a diptych or triptych of a single image printed across multiple canvases. (If you need help determining if your image will print well on a large canvas size, we talk all about image quality in our post, The Best Image Quality and Size for Canvas Printing.)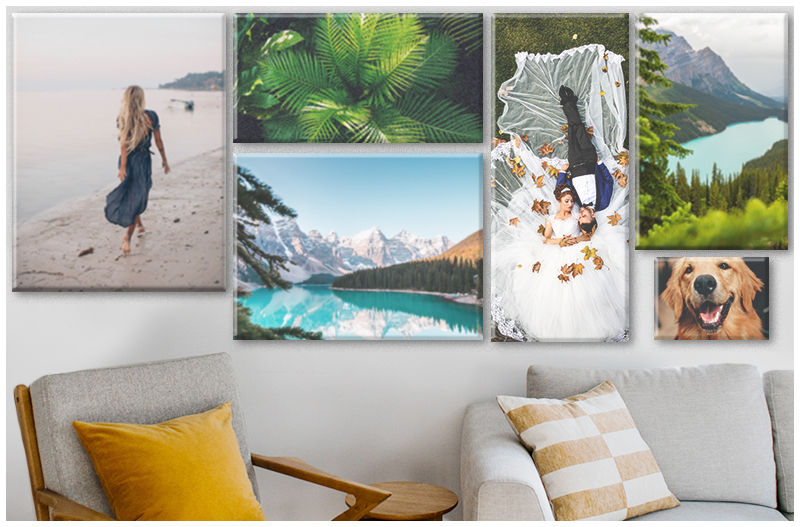 Budget-Friendly
When considering prints for the purpose of decor and wall art, canvas prints are incredibly affordable compared to other print options, such as acrylic, metal, and even photo paper prints. Acrylic and metal prints can be costly as-is due to the materials and process used to make them. Photo paper prints on their own, whether matte or glossy paper, aren't typically expensive; however, matting and framing can be expensive, especially for larger sizes. With canvas prints, even a large 30x36 size is affordable, and along with all of the other benefits of canvas prints that we've mentioned, this makes canvas printing incredibly cost-effective.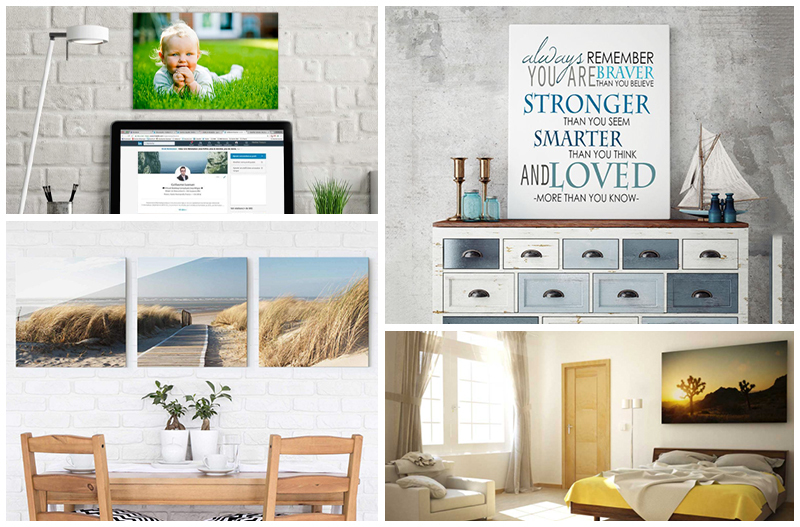 High-Quality
With the right materials, canvas prints have durability. We use acid-free, archival canvas material and print with high-quality latex inks and printers. The latex inks that we use allow for vibrant photo transfers, and they are eco-friendly, having both Ecologo and Greenguard certifications. Not to mention, our canvas stretcher bars are made of real pinewood, providing sturdy, long-lasting durability for high-quality canvas prints.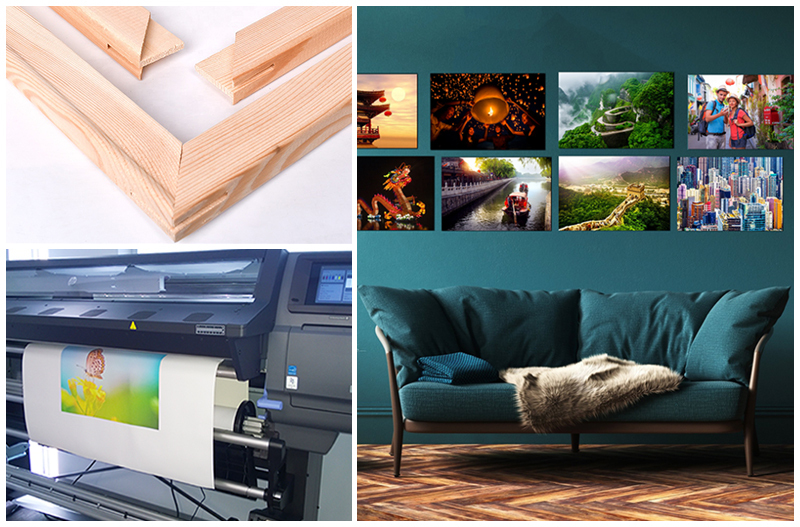 Simple
Finding a frame to match your print size and the decor in your space can be time-consuming (and adds an extra expense). Unlike a traditional photo print on paper, canvas prints arrive ready-to-hang, being already wall-worthy without the need to find a frame to fit. In addition, even at a large size, canvas prints are lightweight, which makes them easy to transport and hang. And here at Simple Canvas Prints, "simple" is in our name; ordering a canvas print is just that: simple. Just choose your canvas product, add your customizations, and place your order!