Did you know that some images work better than others for large canvas prints? If an image file size is low in resolution, then it will, unfortunately, result in a blurry print, and the larger the print size, the more noticeable the blurriness will be. For lower quality images, it's best to stick to smaller canvas sizes. It's ideal to have a high resolution image, as it can be printed on small and large canvases with great results! But realistically, many of us probably have at least a few images, near and dear to our hearts, that just might not be high enough in resolution to be suitable for wall art. The good news is that you probably have even more images that are higher resolution and will print with clarity! You might now be wondering if your image will print well on the canvas print size that you had in mind. And if you're not sure, we're here to help!
How do I determine which canvas print size is best for my photo?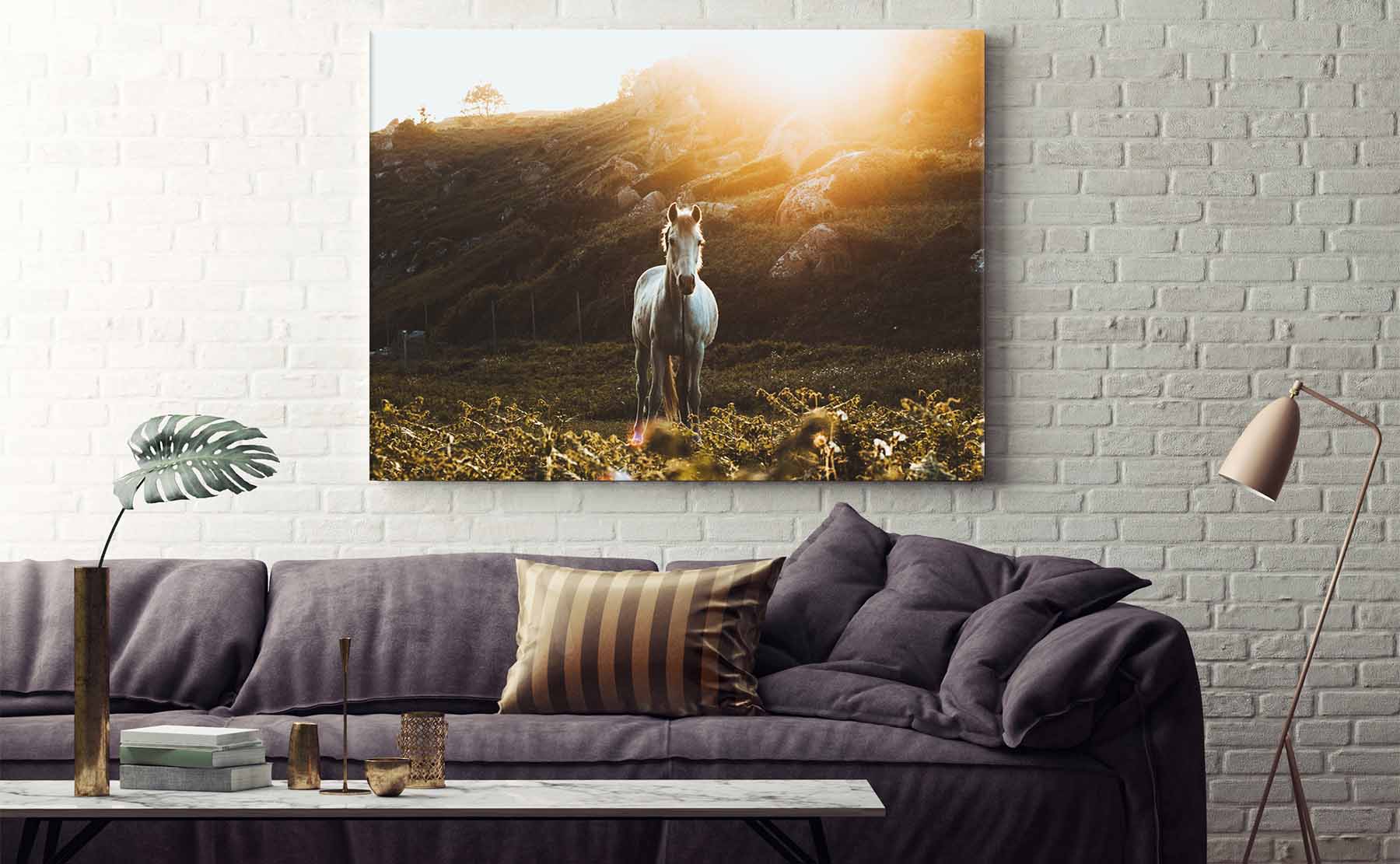 Find the resolution of your photo in dimensions:
When choosing the right canvas print size for your print, you must first determine your image size in pixels. You might be wondering: What is a pixel? A pixel is the smallest unit of a digital image or graphic that can be displayed on a digital display device. In other words, the tiny dots of color that make up a digital photo. The pixels on your digital camera or computer screen get converted into dots on the printed image. Every digital image is made up of pixels.
To determine the length and width of an image in pixels:
Open the folder or file location where the image is saved.

Right-click the image.

Select Get Info (Mac) or Properties (Windows). For Windows users, you also need to click on either the Details or Summary tab.

Note the length and width in pixels, typically labeled in the info box as "Dimensions". And this will be a great way to begin to determine the best size(s) for your image.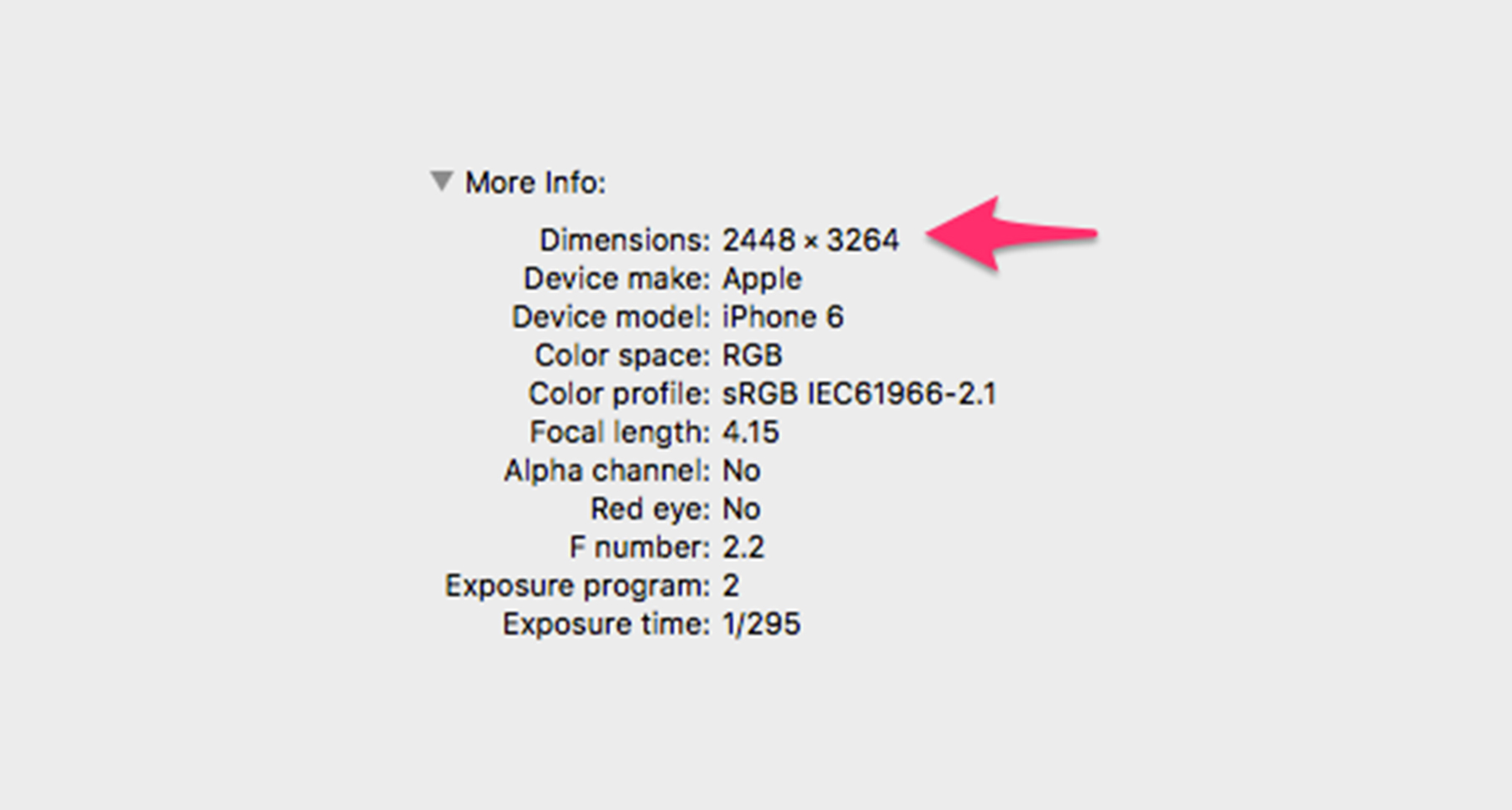 Determine if the dimensions are fit for the canvas size:
As a rule of thumb, multiplying the dimensions of the canvas size by 100 will tell you the minimum image dimensions for a good quality print on that size. For example, if you are interested in the 16x20 canvas size, then image pixel dimensions of at least 1600x2000 will typically result in a good quality print. If your image dimensions are a lot lower than this, then we recommend opting for a smaller canvas size to assure a good quality print. However, if your image dimensions are only slightly lower than this, then it will still produce a similar quality print! Check out the chart below for image-dimension recommendations for some of our most popular canvas sizes.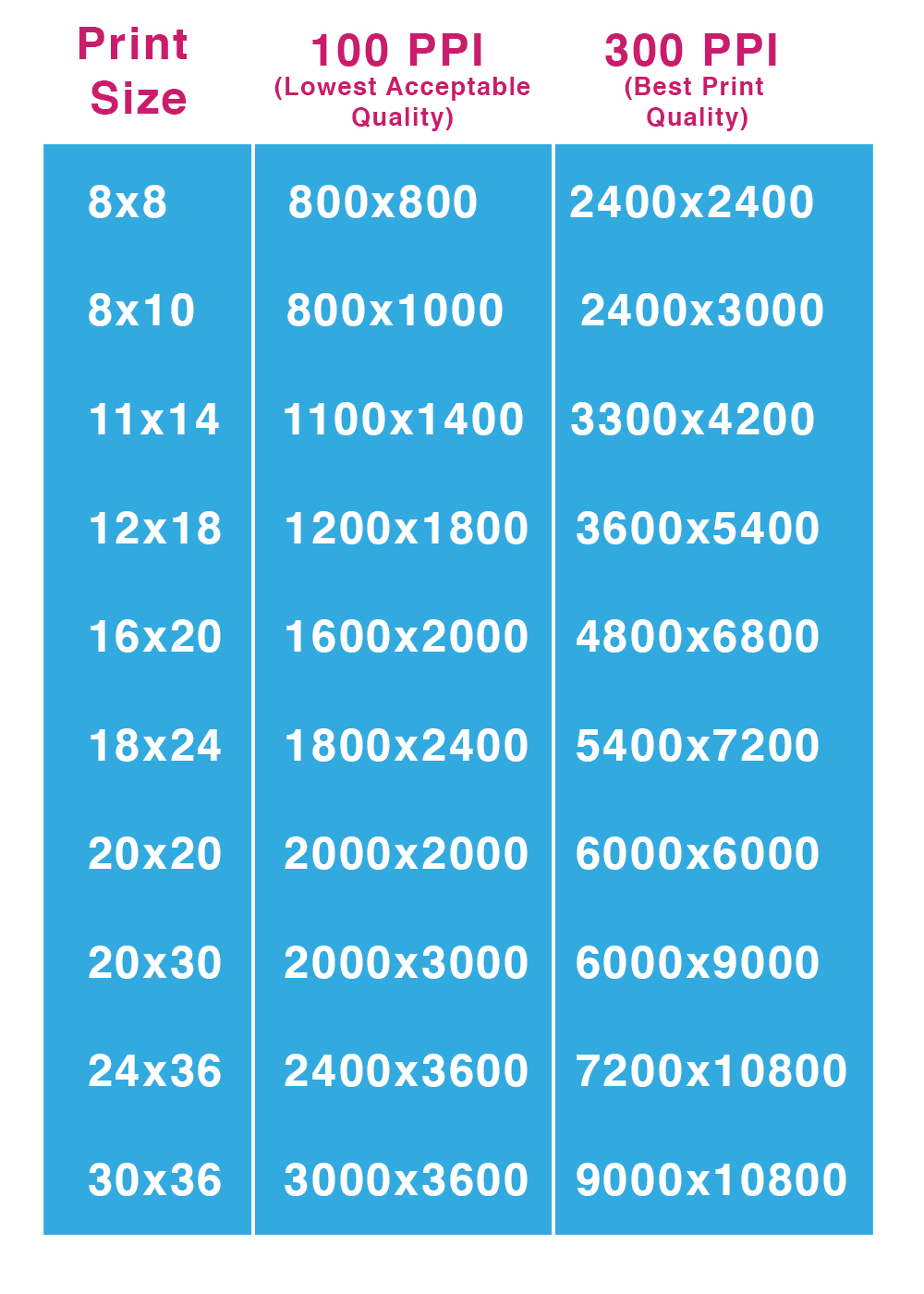 How can I make a canvas print from an old photo?
If you have a physical photo that you want to turn into a canvas print, the best way to do this is by scanning the image into a digital .jpg/.jpeg or .png file and saving it onto your computer. To create an optimal scan, you should choose a minimum resolution of 300 PPI or higher to assure the best possible print quality. We do recommend that you avoid taking a photo of the photo, as this can result in a lesser quality image as well as discoloration. For more details on scanning old photos to digital files, check out our article The Right Way to Digitize Old Photos.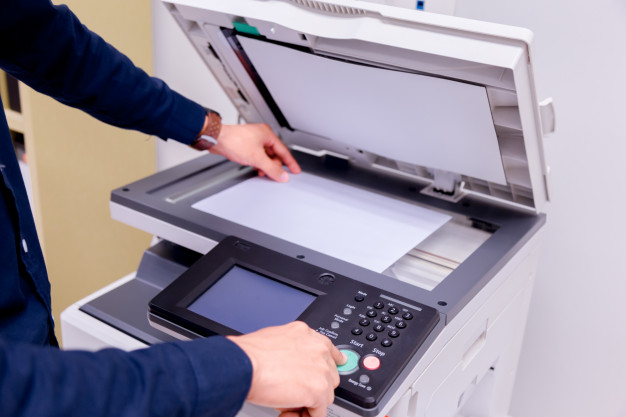 How do I print a low-resolution image?
Unfortunately, some images just might not have the ability to produce a high-quality print no matter the canvas size due to having very low resolution. However, if you have a very special low-resolution image that you really want to have printed regardless of it resulting in a low print resolution, then we recommend at least keeping the print small: 8x8, 8x10, and 8x12 are some of the sizes that we would recommend for a lower resolution print.
Why do some images have low-resolution and others have high-resolution?
There are multiple factors that play into whether an image ends up being good-quality or poor-quality. An image first comes from a camera, whether it be from a tiny flip phone (Yes, they still make these!) or a professional manual camera. To compare these two extremes, an image coming from a simple flip phone will immediately begin as a low-quality image (AKA we don't recommend printing this), and the opposite goes for the professional camera. From there, if the image goes through many transfers (regardless of the camera that took the photo), such as posting to social media, to downloading from social media, to sending via text, to then sending it via email, there is a probable chance that the image will lose quality along the way.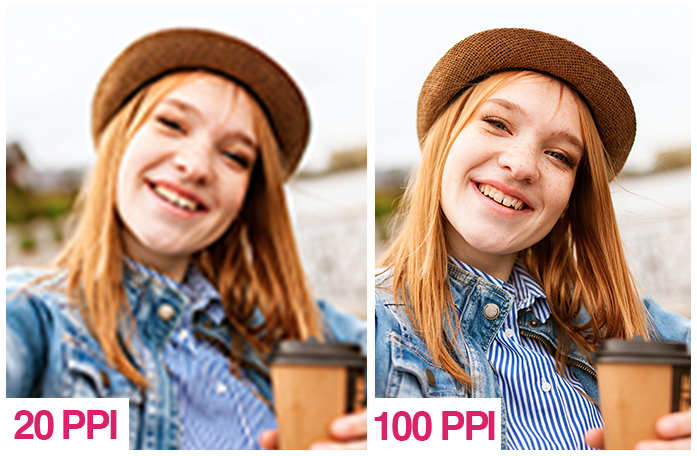 Tips for printing a high-resolution image:
Take the image using a professional manual camera or using a modern smartphone that has the ability to take quality images. (For more input on how to take interesting and high-quality images, check out our article on How to Take Amazing Photos in the Comfort of Your Own Home.)

If scanning a physical photo into a digital file, scan in with a resolution of at least 300 PPI.

If you have the choice between getting the image from social media or getting the image from the original source (i.e. your phone photos or the photographer who took the image), always choose the original source to assure the best quality. (NOTE: If printing an image from social media, we recommend printing on size 16x20 or smaller.)

If there is a need to transfer the image via email before uploading to print, if given the options of attaching the image to the email as Small, Medium, Large, or Actual size, always opt for "Actual Size". This option will keep the integrity of the original image. (NOTE: These options are only given for large file sizes that might slow down the email transfer, such as professional photos.)

Try to avoid using images that have been sent through text message. If there is a need to transfer an image from one device to another, opt for email or web-based storage for photos, such as Dropbox or Google Drive.

Avoid using images found through a web search. Most images that appear during a web search are made for screen-viewing only, which does not require a high resolution. If you do want to use someone else's image/design to print for personal use, we recommend using a copyright-free stock photography website or buying a printable file directly from the artist/photographer.
Of course, if you're still unsure about the best canvas print size to choose for your image, our support team is ready and waiting to answer any questions you may have! If the image can be improved with digital enhancements, our professional design team can apply a touch of sharpening, ensuring that the finished print looks as good as possible regardless of size.
Ready to print a canvas photo?