The wedding planning is over, and the big day finally happened! And it was full of love and laughter and joy (sprinkled in with a little bit of dancing to "Play that Funky Music"). It probably feels like that day came and went way too fast, but now you have some incredible, great quality photos to forever look back on and cherish! Wondering what to do with those digital photos that your wedding photographer sent to you? Well, we have a few printing options!
1. Create a Custom Canvas Print

Choosing one or just a few special photos from your big day can be tough, we know! But if you're really trying to narrow it down to only a couple of enlarged high-quality prints from your wedding album, you can opt for custom canvas prints. Our canvas prints can be printed from size 8"x8" up to size 30"x36". One or two large canvases are a perfect addition to the home decor, especially going in living rooms, bedrooms, and dining rooms. Small to medium-sized canvas prints are great for smaller spaces such as for the office, tabletop, and hallway decor; in addition, they're ideal for adding to wall art displays and giving as photo gifts to parents and other loved ones. We can stretch your canvas over a 0.75" or a 1.5" deep frame for a completely finished look. Or if you're more of a DIY-er, you can opt for our rolled custom canvas print option instead: We'll just print your photo, and we'll let you take it from there!
When going through your wedding photos to decide which ones to print, you may come across some that you'd love just a little more if they had a bit of editing. Is there a spec of dirt, piece of food, or other mark on your wedding dress? Is there something in the background that looks out of place and should be removed? Do you want to put a dinosaur in the background of your photo? (We bet that last one made you do a double-read.) If so, we also offer Photoshop editing services that you can opt for when choosing a custom canvas print, ranging from minor to major editing. To learn more about our design services, take a look here.
2. Create a Gallery Wall Display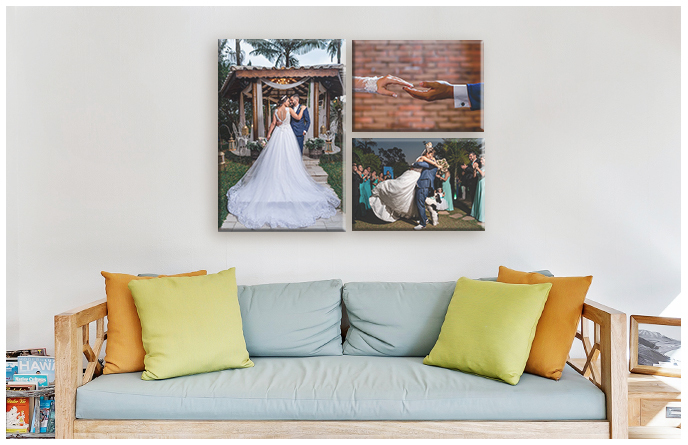 A wedding day is usually an all-day event, beginning in the morning and ending after dark, which means that you'll typically receive at least 100 edited photos as a result (if not a lot more)! With so many photos to choose from, one of the great things about a canvas wall display is that you don't have to narrow your decision down to one favorite photo. You can create a wall display using anywhere from 2 - 10 different images (or more if you want to choose more than one wall display package!), using a combination of large, medium, and small canvas print sizes, or using one standard canvas size for all photos. Some suggested wedding photos to use for your wall display:
All different shots of just you and your spouse
Your favorite shot of just you and your spouse combined with shots with your most special family members
Variations of shots of you and your spouse with the wedding party
Most unique: Use only photos from the reception (the dancing part, of course). If you had a wedding reception, then you probably received a decent amount of photos of you, your spouse, and your guests dancing the night away! Though these photos are almost always a part of the wedding photo package, it seems that they're the least used when it comes to printing. But if you're looking to create a unique (and fun!) wall display, we suggest picking a few of your favorites of you and your loved ones groovin'.


3. Create a Triptych or Diptych Canvas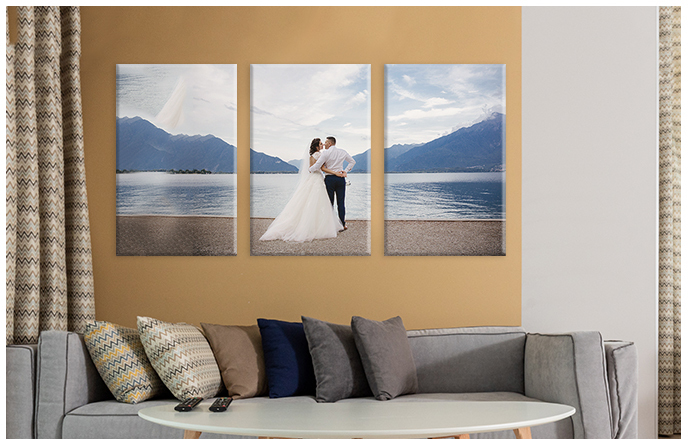 If you are able to narrow down your photo printing to one special photo that you'd like to fill your wall with, then a triptych (3-canvas photo) or diptych (2-canvas photo) is the perfect option! This especially works if you have a photo that can be evenly divided down the middle or into three parts. With professional wedding photos being such high-quality, it's the perfect opportunity to go big with large prints! We've previously discussed that the higher the resolution of an image, the better the print quality will be, especially for larger sizes. If you're not yet sure about the best canvas size for your photo, see our guide on the best image quality to use for canvas prints here.
4. Create a Collage Canvas Print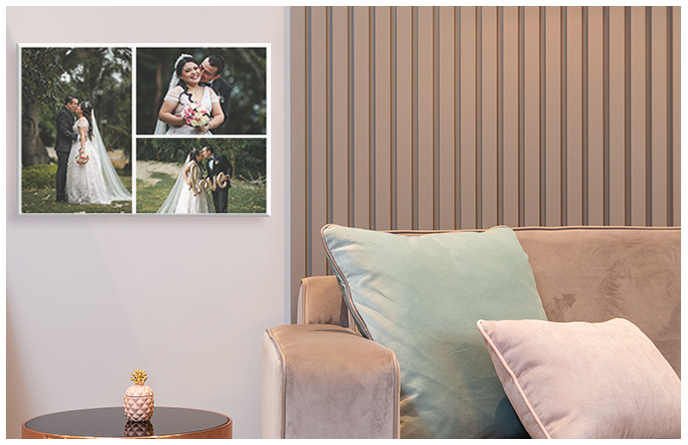 Choose anywhere between 2 - 4 of your favorite wedding pics from your wedding photo album to create a collage canvas print. You can make your collage as small as you'd like (8"x8") or as large as you'd like (30"x36"), and pick from six different layouts!
5. Create Glossy Wall Tile Prints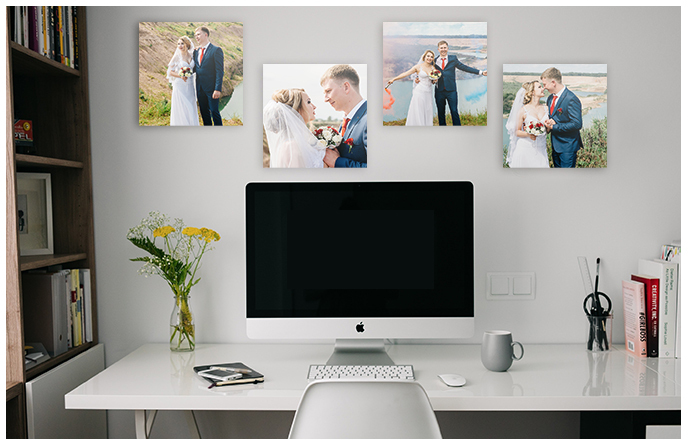 Want to print A LOT of your photos? Or do you want your photos to be printed as high-gloss prints that easily stick to your wall? If you answer "yes" to either of these questions, then glossy wall tiles are for you! Our glossy wall tiles are solid, slim, and lightweight prints; they are each 8"x8" in size, making them the perfect size to fill a wall with many tile photos. Individually, they also make for great gifts to family, using family photos from the wedding day. Want to see an example of how easy they are to display? Click here to take a look.
Looking for something to pair with your wedding photo prints?
1. Star map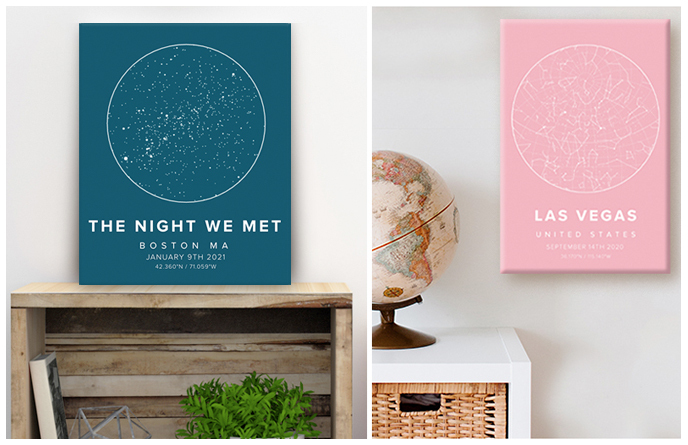 A star map is a wonderful memento of your special day and pairs well on the wall with photos from that day. Star map art prints show how the stars were aligned above you on your special day, wherever you happened to be in the world at that time. We suggest creating a timeline of events using multiple star maps, such as "The Day We Met", "The Day We Got Engaged", and "The Day We Said 'I do'" to forever remember each special milestone. You can add a combination of your photos to display around your star maps, including your wedding and engagement photos.
2. City map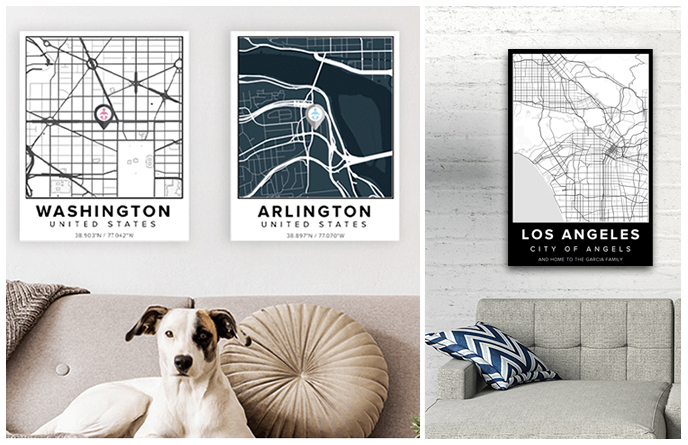 City maps are dedicated to that special place that you both hold near and dear to your hearts. You can celebrate the place where you both said "I do" with a city map, you can choose to dedicate it to your first home, or you can dedicate it to another special location that you and your spouse share. Just like star maps, you can surround your city map with your wedding photos and, of course, any other meaningful photos to you and your partner!
Your favorite wedding photos deserve a spot on the wall. Let us be your photo printer and help you cherish your beautiful photos for years to come!