Santa Claus is coming to town soon, and he'll be stopping by Simple Canvas Prints to pick up a few custom gifts before he makes his rounds! If you're stumped on which gifts to add to Santa's bag, look no further than our list of all of the special custom prints we have to offer this holiday season.
1. Custom Canvas Print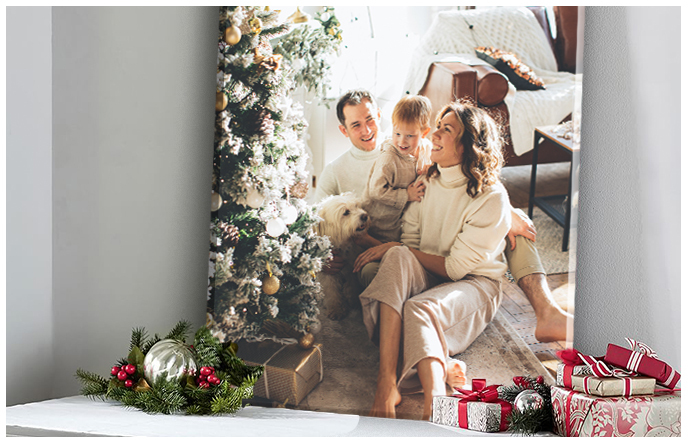 A custom canvas print makes for such a simple and thoughtful personalized gift for anyone in your life, from your coworkers to your spouse! You can choose from sizes ranging from a small 8"x8" to a large 30"x36" canvas print. Take that family holiday photo and get it printed on canvas for everyone to open on Christmas Day, get the group shot of your work team printed and gift it to your coworkers to hang in the office, gift your best friend a canvas print of your favorite photo together.. The customizations and giftees are endless when it comes to personalized canvas prints, which is why this makes a great gift for everyone!
2. Star Map Canvas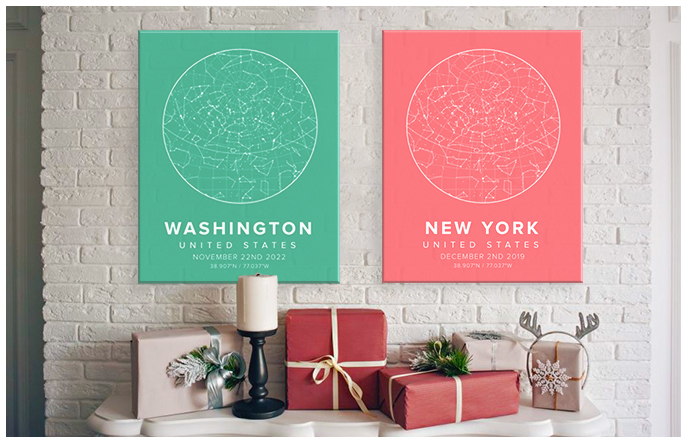 A star map canvas is an especially unique gift for your partner or that special couple in your life, because it captures just how the stars were aligned on a special day and place (think wedding, anniversary, engagement). But it's also a wonderful gift for other milestones, such as a birthday, a retirement, or graduation day. For any star map, you can choose from 12 different color designs and even customize the text if you'd like! If you have a meaningful date and location in mind for your giftee, a star map canvas is a great way to capture just how the stars were aligned on that special day!
3. City Map Canvas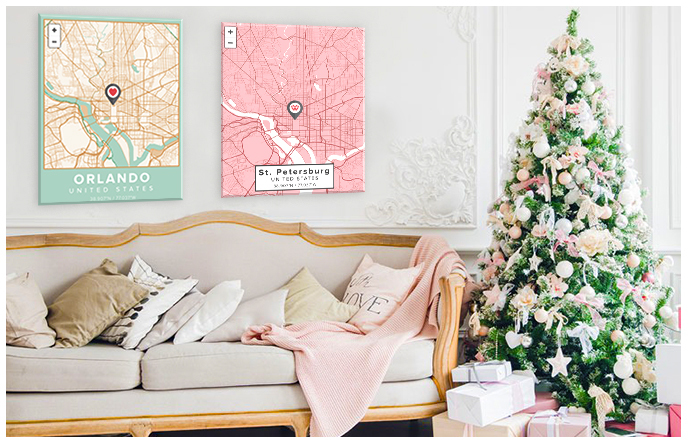 A city map canvas is a great way to commemorate a special place to your giftee. You can choose from 22 different designs and even add a special location pin to pinpoint a specific spot. Similar to a star map canvas, it's also a great gift for the couple in your life! A special place might be where their child was born, their first home, or the place where they met or married. And it's also a great gift for college students or graduates, creating a city map dedicated to their hometown, college town, or graduation location. Wherever that meaningful place may be, a city map can capture this location in a print so they can forever remember that special place!
4. Overlay Canvas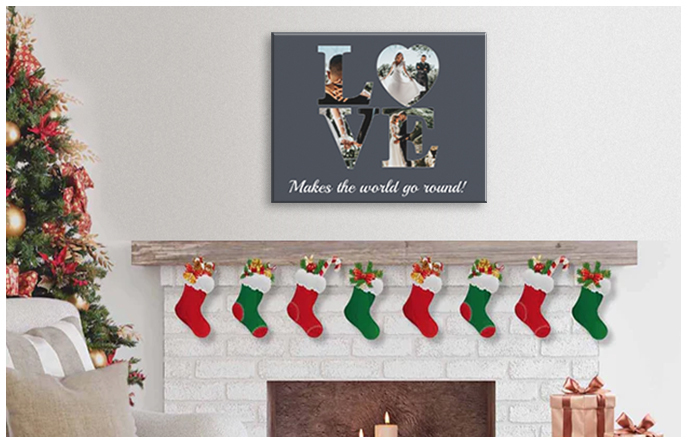 These are the perfect gifts to give to some of your favorite people! Mom, Dad, Grandma, Grandpa, your significant other, and even the new homeowners in your life will love the gift of an overlay canvas. Every overlay canvas can be customized so that each letter contains a different image that you upload. Spell out MOM, DAD, GRANDMA, GRANDPA, HOME, or LOVE with some of their favorite photos.
5. Canvas Wall Display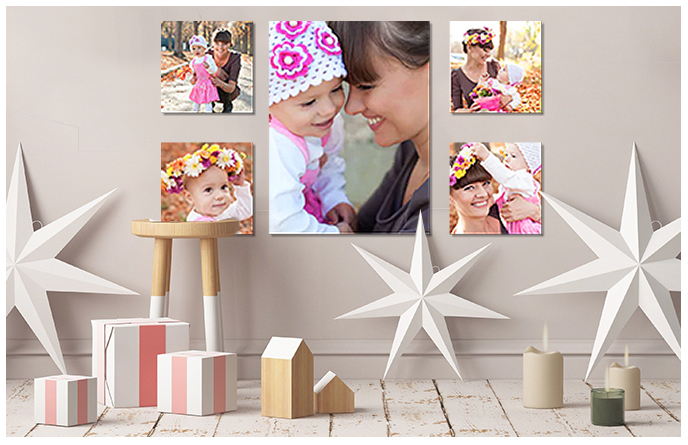 Know someone who has an empty wall to fill at home or in the office? If you have an idea of the dimensions and you know what that person might like, a wall display (or gallery wall) will make a great gift! Choose one of the multiple different combination options that range from filling a space as small as 8x10" to filling a space as large as 26x72"!
6. Collage Canvas

If you have between 2-4 photos that relate to one of those special people that you're gifting for, then a collage canvas is a great canvas gift option. Can't choose which family photo you like the best? Choose a few of them, and turn them into a collage print to gift to your spouse! Gift new parents a photo collage of their baby. Gift your pals each a collage of the wonderful moments you've shared throughout the years. Give Grandma and Grandpa the gift of each of their grandkids on one canvas. This is another versatile custom gift that is perfect for your loved ones.
7. Multi-Canvas Print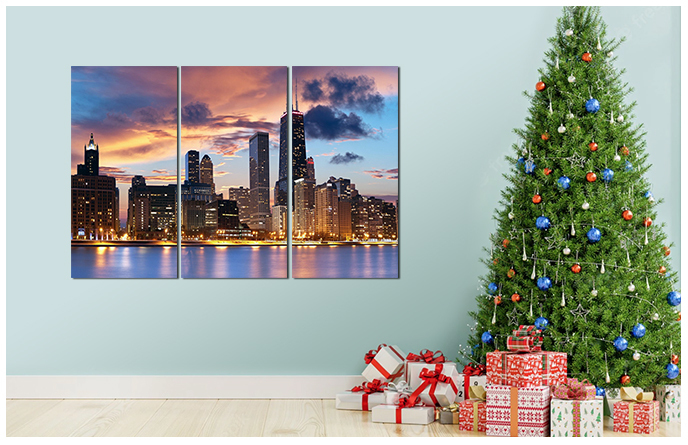 Multi-canvas prints are such a stunning wall centerpiece to have in a living room, bedroom, dining room, or office (to name a few)! A multi-canvas print is a single photo that is spread out over 2 (diptych), 3 (triptych), or 4 (quadriptych) canvases, and they can range from as small as two 8"x8" canvases to as large as four 30"x36" canvases. Since a multi-canvas print consists of a highly enlarged version of a photo, this one is best suited for high quality images, typically photos that were taken using a high-quality DSLR camera, or similar. If you have a photo that you want to turn into a multi-canvas print, we recommend taking a look at our guide here to assure that your image will print well on the overall canvas size you would like!
8. Home Decor Canvas Art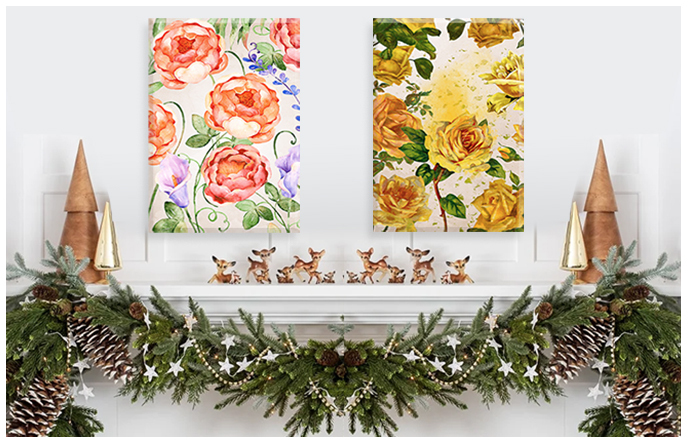 This is perfect for the person who wants some cool new art, something to color/DIY, or a high-quality photograph of a destination that they love or long to visit! This is also a great Secret Santa gift for a coworker or for a loved one who might be looking for some new wall decor. Take a look through our home decor collections to find that special piece of canvas wall art to gift!
9. Glossy Wall Tiles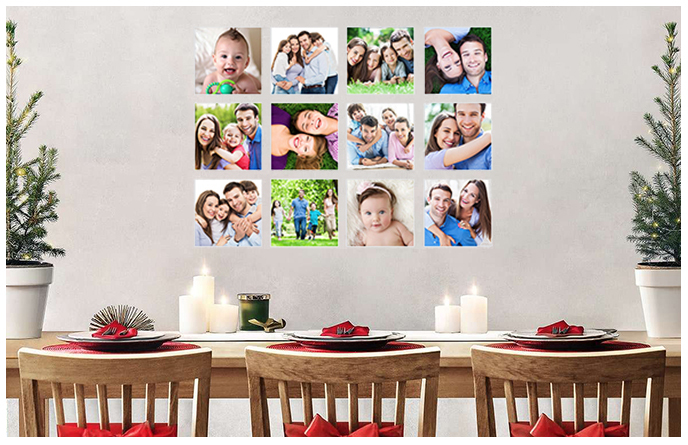 Glossy wall tiles are a perfect way to gift high gloss prints on lightweight, easy to hang, tiles! These come 8"x8" size, making them the perfect size to fill a large wall with many tile photos or to fill a small area, such as above a desk, with one to four tiles. Depending on who you're gifting to will depend on how many you might want to gift. There are so many possibilities with glossy tiles: print your own artwork (or your giftee's art), gift the lover-of-cars in your life prints of each of his classic cars, gift Grandma and Grandma a photo of each of their grandkids, or gift your love photos of the two of you in your favorite places!
10. Gift Card
Are you just not sure of which kind of custom print they would like or which photo to use? Let them pick it out, and give the gift of a gift card! Or if, by the time you're reading this, most of the holiday season has slipped right by you, a gift card makes a great last-minute gift. Simple Canvas Prints digital gift cards are emailed directly to you within 30 minutes after you place your order. That way, you can either print it out or forward the email to the giftee! How's that for fast delivery?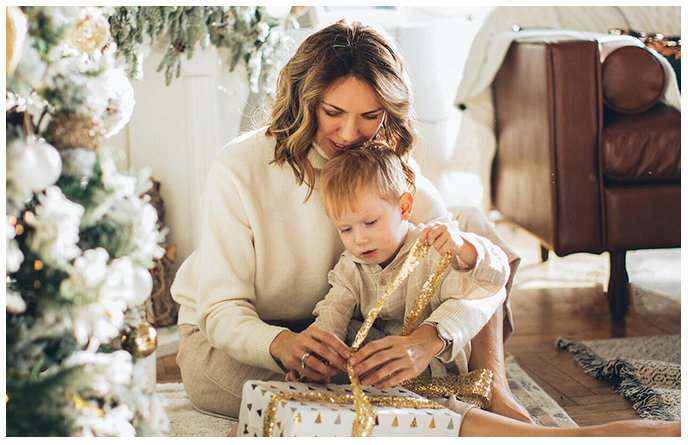 Custom photo prints make wonderful keepsakes for those special people in your life! Ready to deck the halls with custom prints?