If you're looking for some fresh custom wall art, we've got you covered. Glossy photo wall tiles are a unique hassle-free way to add some flair to your home or office decor!
First thing's first, what is a glossy photo wall tile?
Simply put, a photo wall tile is a photo printed on a solid, slim tile that comes with an adhesive Command Strip to easily stick on your wall. Our wall tiles are the original high gloss tiles, which means that your prints will have a stunning glossy finish! These custom photo tiles are 8"x8" in size and make a great addition to any home decor style.
The layouts are limitless
Just because our tiles are one size doesn't mean that you're limited on how to display them. Au contraire! There are plenty of ways to display glossy wall tiles, and we've listed a few of the most popular ways below:
Display them to look like a letter or a name. This type of display goes great in nursery rooms or kids' bedrooms, forming the tiles into the first letter of their name or their initials. It's also a great choice for a family room or living room, forming the tile into the first initial of your last name.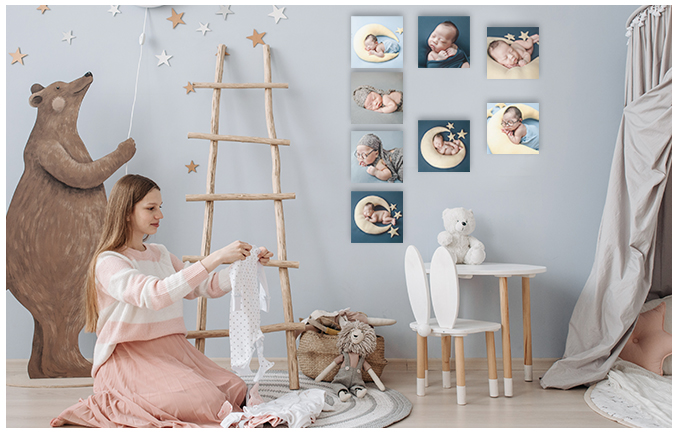 Go diagonal. A wonderful choice for stairways!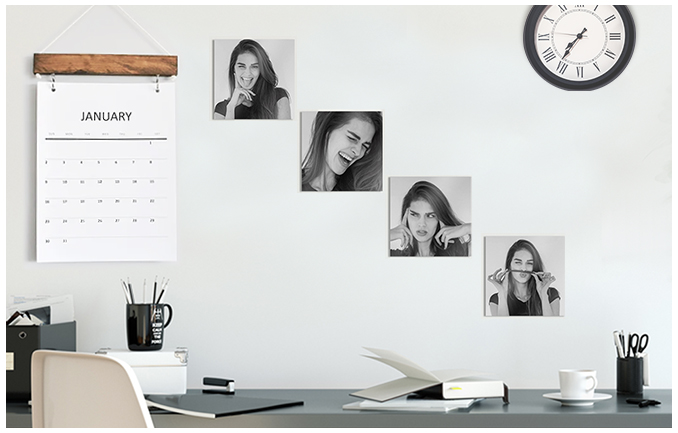 Vertical rows. Perfect for wall spaces that are vertical in nature, such as between two windows that are in close proximity, between two doorways, or at the end of a hallway.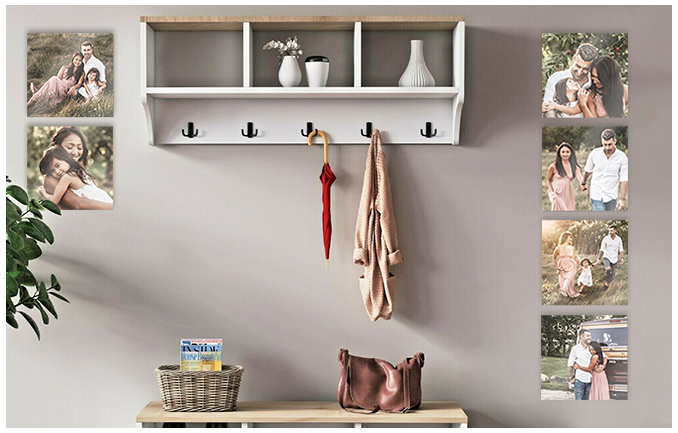 Horizontal rows. This one is great for displaying on wall spaces that are directly above a wide piece of furniture, such as above a bed frame, a couch, or a console table.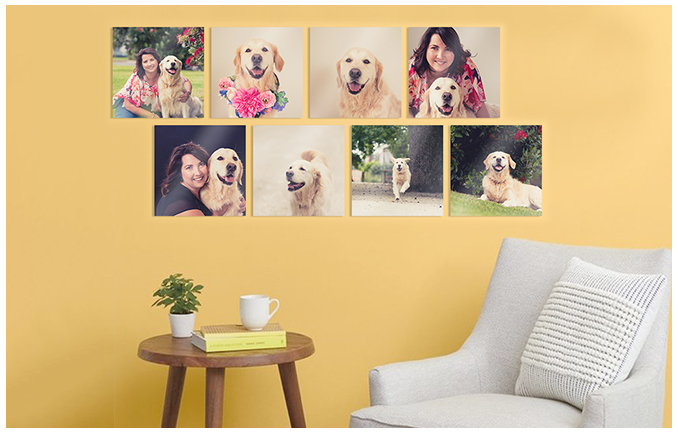 Mix it up with a variety of art pieces and decor. Create a gallery wall by displaying the photo wall tiles within an assortment of other wall decor items.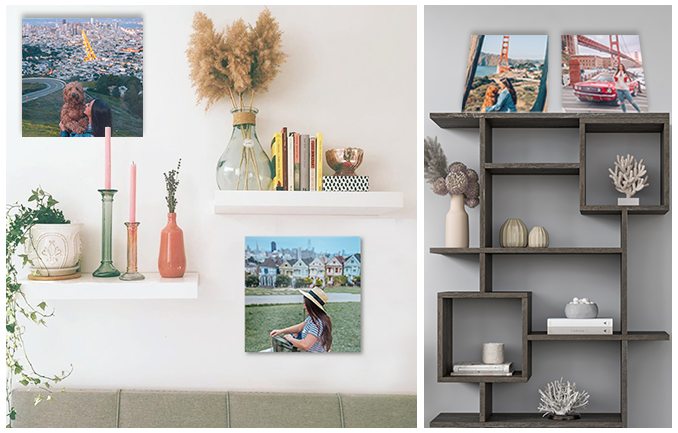 Use as a border to a larger piece. Already have a main display piece but want to add to it? Use glossy tiles to create a border around it, and make your wall pop even more!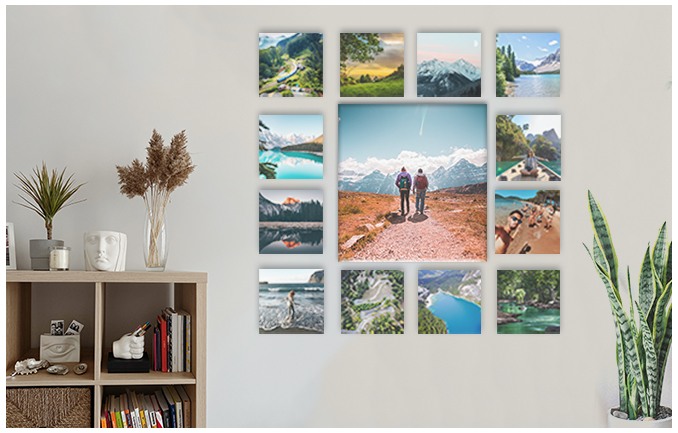 Create an even bigger square. You can use 4, 9, 16, or 25 tiles to create a perfectly square display.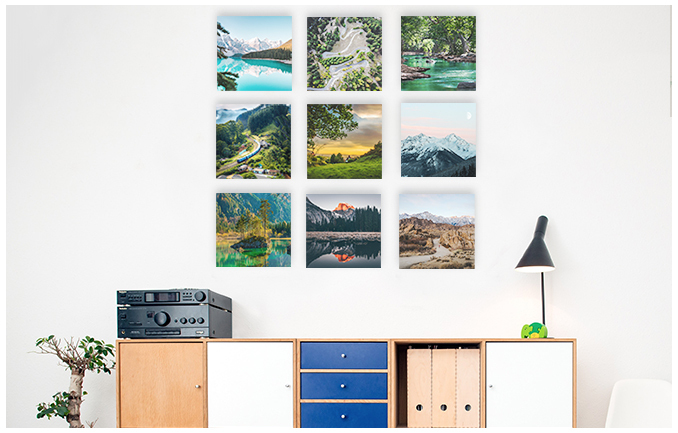 Change it up! After you go with a certain layout and feel like switching it up over time, simply unstick and then restick into a new layout! If the adhesive strips aren't as sticky the second or third time around, then you can replace with new Command Strips.
The best images to print on glossy wall tiles
Undeniably, the best images to print are high-quality images. If you're unsure whether your image will print well on an 8"x8" glossy tile, check out our article where we discuss image quality more in-depth here. (This article mentions canvas prints, but the same general rule will also apply to tile prints.)
Aside from image quality, here are some of the types of images that you can print on glossy wall tiles!
Your family
This one is probably a given. Some of the most meaningful photos are those with the people you love the most. And what better way to cherish those photos than by displaying them on the walls of your home or office? You can display those professional shots, or you can display those little unedited moments that you've taken on a whim with your phone. Whichever you choose, you can't go wrong with photos of your loved ones! Plus, there are many benefits to displaying family photos in your home.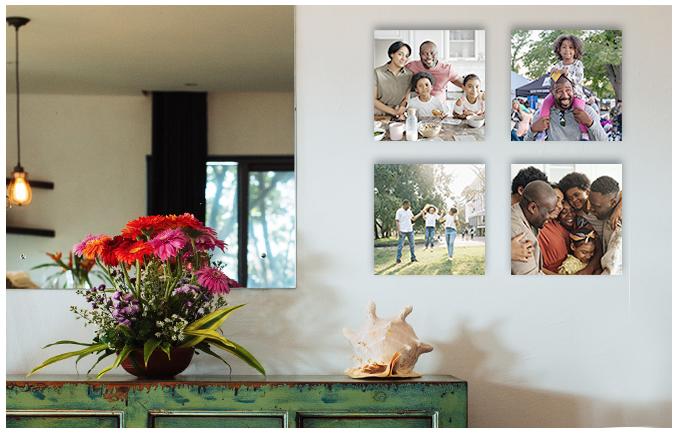 Your pals
Friendship is precious. Friends keep you on your toes and they help guide you through life. Celebrate them by giving them a spot on your wall. Or give them a photo gift of some of your favorite memories together!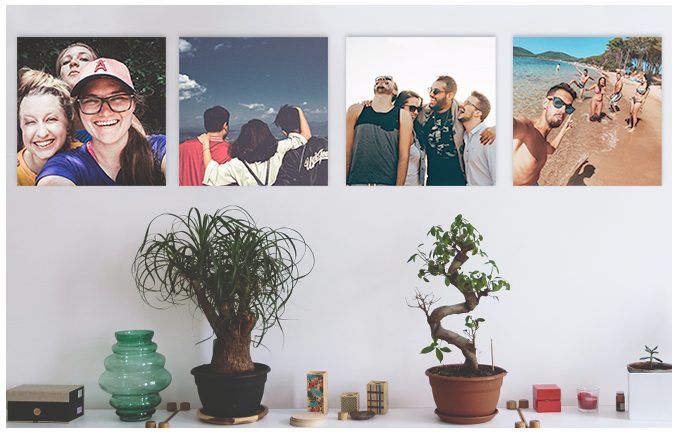 Pets
We all love our pets as they're just as an important part of the family as anyone else! Gather some of your favorite photos of your beloved pet, and show them off with a wall display.
Your artwork
If you're an artist, this one's for you! Especially if you primarily work in a square format. Create a whole gallery wall of your artwork in the form of stickable glossy tiles. You can upload your artwork in either .jpg or .png format.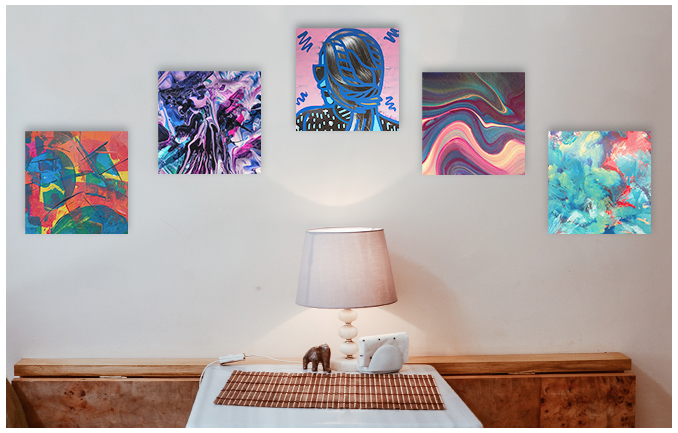 Your favorite places
Snap some photos of a few of your favorite spots! That might include your favorite restaurant, the place where you and your spouse met, your favorite nature trail or thinking spot, and even your home. Then print all of those places on their own glossy wall tiles for a unique and personal wall display!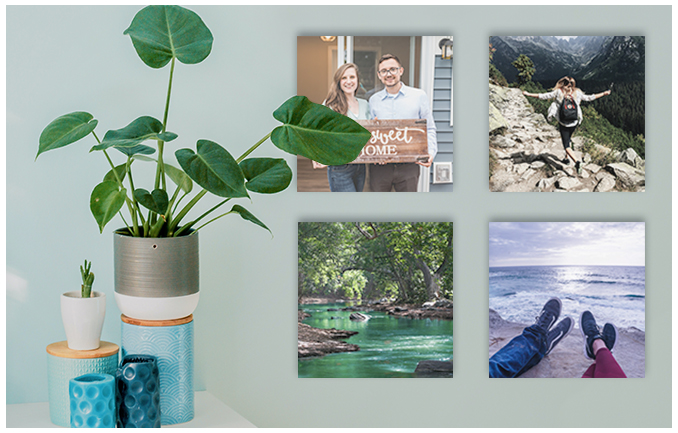 Your favorite things
Got a love for gardening and flowers? Take some close-up photos of the plants in your garden, and print the best ones on glossy tiles! Maybe vintage cars are more your thing? Take photos of vintage cars that you come across, or find some copyright-free stock images of vintage cars online to create a whole glossy tile display of vintage cars. Whatever your interests may be, you can create a wall display of glossy tile photo prints that means something special to you!
Putting together your glossy wall tiles
Once you've decided on the space and layout to display (or who you'll be gifting to) and the images that you'd like to use for your glossy tiles, it gets even easier!
Select your bundle of preference! We offer our glossy wall tiles in bundles of 1 print, 4 prints, 8 prints, and 12 prints. You can select your bundle here.
After that, upload the photo you want to use for each tile and double-check that the cropping looks just how you want it to be. Then you can checkout to place your order or add an additional bundle before checking out.
And then comes the fun part! When your glossy wall tiles arrive, peel off the stickers on your Command Strips and stick the glossy tiles to your wall to create your unique display!